At first glance, Understory, a new restaurant that opens on Thursday in historic Old Oakland, fits the eclectic mix of relaxed restaurants in the neighborhood. Tropical wallpapers with a jungle theme line the room, which is filled with plants. The menu offers unusual flavor combinations that combine Moroccan, Mexican and Filipino influences.
But behind the scenes, Understory is trying to break the mold. The restaurant, bar and commissioner's kitchen aim to redefine what success means in the food industry – building on the East Bay's long tradition of food cooperatives and social justice movements. As a collective, business decisions such as wages, paid time off, safety protocols, and other operational policies are made by employees. The space around the block from the Swan's Market food hall will also function as an incubator, providing a kitchen and business education for immigrants, refugees, and women of color chefs.
"This is more than a restaurant," said chef and labor leader Florencio Esquivel, formerly of Hella Vegan Eats. "It is a call to our intersecting communities to support this vision of advancing workers' rights and making the food landscape more inclusive."
(Left to right): Seanathan Chow, Co-Founder, Diana Wu, Board member of Oakland Bloom, Lily Fahsi-Haskell, Labor Leader, Jenabi Pareja, Labor Leader, Nino Serrano, Labor Leader, and Florencio Esquivel, Labor Leader, pose for a portrait in Understory on Friday, March 19, 2021, in Oakland, California. Understory, a worker-run restaurant, bar, and commissioner's kitchen, serves a mix of Moroccan, Filipino, and Mexican dishes. The project works with Oakland Bloom, a nonprofit that supports refugee, immigrant and women chefs.Yalonda M. James / The Chronicle
Although color workers make up the bulk of the California restaurant workforce, they are focused on less visible jobs with lower wages and are underrepresented in the highest-paying positions in restaurant employee advocacy, according to studies by Restaurant Opportunities Centers (ROC) United, a national. The Bay Area also has the largest income gap in the country between white and colored hospitality workers.
While the East Bay food cooperative legacy dates back to the 1970s with pioneers like the cheeseboard, Understory is part of a recent renewal of jointly owned Oakland food companies focused on the economic resilience of BIPOC and queer communities. Like Reems California transforming into a worker-owned operation, Understory aims to emerge from the pandemic with a new definition of restaurant success based on the well-being of its workers and its community.
Understory was developed in partnership with Oakland Bloom, a nonprofit collective that supports color chefs for refugees, immigrants and women. The organization was founded in 2015, but this kitchen will be their first formal home. The chefs are trained to run a restaurant together and are invited to run pop-ups, expand the menu, run their own businesses from the kitchen, and then join the understory as worker-owners.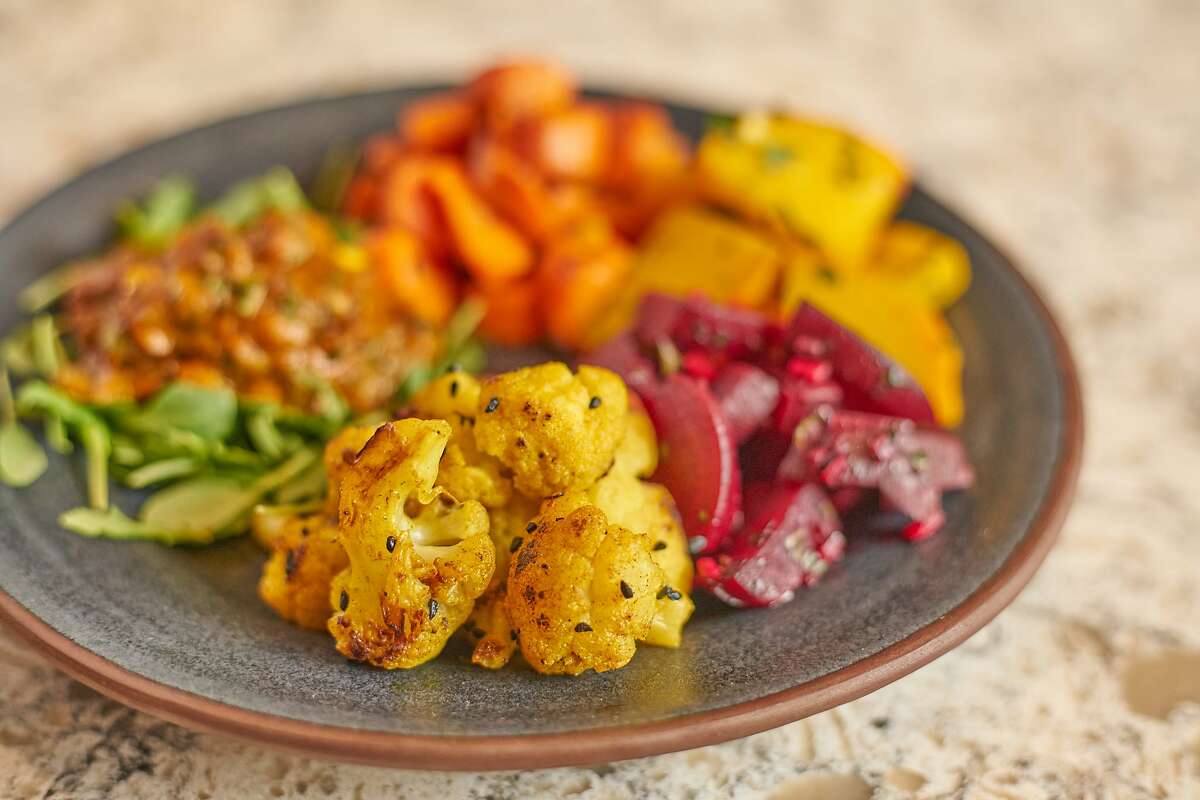 Understory, a new restaurant in Oakland, is staff-run and serves dishes like this.Rich chat
The menu, which is inspired by street markets, changes every two weeks based on the cuisine of the East Bay chefs who are part of the project. It starts with Jenabi Pareja and Nino Serrano who are both Filipino. Expect dishes like empanadas with peanut braised beef stew served with shrimp paste aioli and desserts like a young coconut pudding handpaste.
Next, the menu will swing towards Morocco, an influence from worker Lily Fahsi-Haskell, who is multiracial with Moroccan roots. Lamb chops with date glaze, grilled eggplant and kabocha pumpkin, which have been refined with a chickpea and raisin relish, are planned. The Mexican, mostly vegan, iteration will follow, offering taco plates with moles layered over mushrooms and heavy beaters like deep-fried chorizo ​​mac and cheese. These offerings come from Esquivel, whose vegan home cooking has been expanded to include more dishes inspired by their Mexican heritage. Small plates cost between $ 4 and $ 8, and entrees are between $ 9 and $ 14.
Drinks have a tropical twist, like a lemongrass melon agua fresca and a dark and stormy with a sour punch made from Filipino citrus calamansi, while other dishes are cultural mashups, like a concha with vegan eube ice cream.
The team joined forces after being invited by members of Oakland Bloom to take over the space that was due to open as a Southeast Asia-inspired lounge ahead of the pandemic outbreak. In addition to the cooking background, the team also shares a story of social justice. Pereja and Serrano organize Filipino domestic workers, and Fashi-Haskell was once the Critical Resistance campaign leader for abolitionist prisons.
"I find it bittersweet to open a restaurant when so many restaurants are closed," said Pareja, a former social worker who became a chef. "So how do we simultaneously raise people when we're building something new?"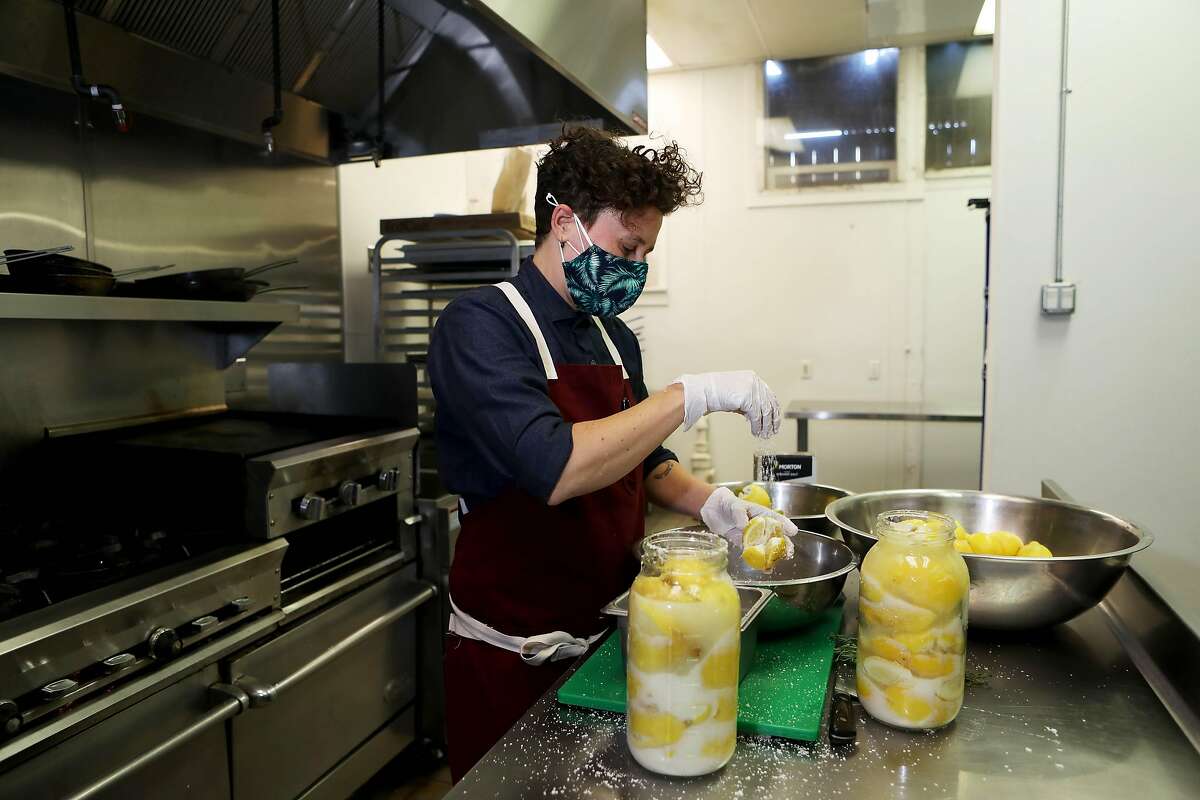 Lily Fahsi-Haskell, labor leader, preserves lemons in Understory's kitchen on Friday, March 19, 2021 in Oakland, California. Understory, a worker-run restaurant, bar, and commissioner's kitchen, serves a mix of Moroccan, Filipino, and Mexican dishes. The project works with Oakland Bloom, a nonprofit that supports refugee, immigrant and women chefs.Yalonda M. James / The Chronicle
This is where a pop-up chef comes in. On select Sundays, various Oakland Bloom chefs serve a special menu of the day, and during the week the regular menu includes a few dishes from a guest chef. Peraja says this is a way to involve immigrant chefs who have kitchen skills from their home countries but face employment barriers in the US as their résumés do not feature traditional restaurant positions.
An Oakland Bloom cook, Kit Lam, is looking to find a wider audience for her up and coming Instagram company, M&D Food, which sells the staples she made for her large Hong Kong family. But she needed affordable access to a commercial kitchen and a presence outside of her personal network to grow. Lam is now planning to use the understory kitchen and is hoping for a Sunday popup.
"My mother has a lot of friends, but it would be great if non-friends knew about us and gave us feedback," said Kinki Chung, Lam's 19-year-old daughter, who interpreted for her.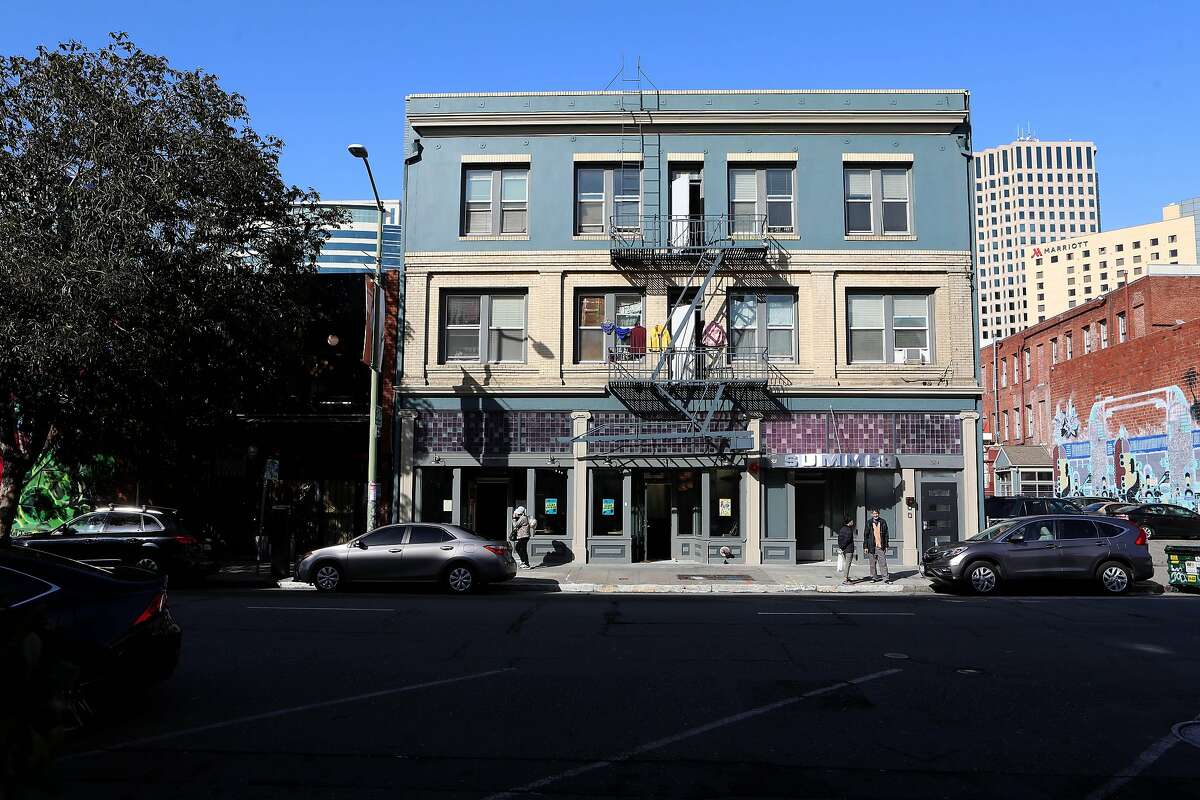 The exterior of Understory is located at 528 8th Street in Oakland, California on Friday, March 19, 2021. Understory, a worker-run restaurant, bar, and commissioner's kitchen, serves a mix of Moroccan, Filipino, and Mexican dishes. The project works with Oakland Bloom, a nonprofit that supports refugee, immigrant and women chefs.Yalonda M. James / The Chronicle
By developing a model that aims to make collective decisions that prioritize living wages, health benefits and workers' needs, the Understory team hopes to challenge the industry norms that BIPOC workers place in question last place in the past. Currently, the four Oakland Bloom chefs and two volunteers are running the restaurant and are working with the original investors to jointly acquire Oakland Bloom equity.
As the team grows, there will be a trial period during which the employees can find out if they would like to be part of a collective and the team can decide if they are suitable for the property. All employees will vote on business decisions such as scheduling, distributing tips, partnership opportunities and managing the pandemic. They have group insurance that provides full and partial part-time insurance to full-time workers, and they offer $ 22-28 an hour.
The team works on sourcing businesses owned by black, indigenous, or colored people, and makes the kitchen available for other social justice food projects. Once the team determines it's safe, they plan to open up to indoor dining and host community and political events.
Serrano does not lose the challenge of being successful under the low profit margins of the restaurant industry and at the same time trying to compensate employees fairly, procure ethically sound and keep menu prices accessible.
"In the midst of this pandemic, there is great uncertainty about what to expect and what to expect and we are trying to lay a strong foundation for us to succeed," he said in Tagolog, as Pareja interpreted it. "But what's so exciting is that we can spend more time together in the kitchen and as a community breathe new life into the room."
Sub-story. Opening March 25th for takeout and dining al fresco. Open Thursday from 4 p.m. to 8 p.m., Friday from 12 p.m. to 2 p.m. and from 4 p.m. to 8 p.m. and Saturday from 12 p.m. to 4 p.m. 528 Eighth St. Oakland. Understoryoakland.com.
Ferron Salniker is an Oakland-based writer and events producer. Email: [email protected]