The Oakland Unified School District has joined an initiative to redefine cafeteria food as nutritious and delicious farm-to-table cuisine.
The move is part of OUSD's participation in the Good Food Purchasing Policy (GFPP), which aims to improve public food procurement by public institutions by emphasizing nutrition, local economy, animal welfare, valued workforce and environmental sustainability.
"It's not just about the quality of good school food," said Shaniece Alexander, executive director of the Oakland Food Policy Council, "but also about the way we get the food."
Oakland was one of the first cities to adopt GFPP for public schools after Los Angeles and San Francisco, and has worked with the program for three years.
Originally, OUSD received a 2-star rating out of 5, but since then the district began on Thursdays in California, bringing one local lunch per week to all 20,000 children in the city's school system. Some changes were made to the menus over the course of the week, e.g. B. Sourcing Community Grains and Vegetables from Pacific Rim Produce.
"Many of our students live in food deserts with no access to good, healthy food," said Jennifer LeBarre, OUSD's director of nutrition. "We found that many of our students have access to it in schools. We really believe that it is our moral obligation to offer the best food. "
OUSD students enjoy lunch. | Photo: OUSD
OUSD also initiated other changes and now offered four meals a day, including breakfast after the bell.
Many students were unable to attend a pre-class breakfast due to conflicting schedules or a perceived stigma of receiving free or discounted meals separated from other students. The solution was to make breakfast a shared meal that is available to all students after the school day has started.
"Every change encourages participation," said LeBarre, who said that fed and healthy students "are better able to focus".
Oakland Unified recently received a four out of five star rating from the GFPP and was named a Good Food Institutional Hero.
District officials intend to do more under a ten-year plan to build a central kitchen on 60,000 square feet in West Oakland. The kitchen at 2850 West Street will serve as the central hub for food preparation and distribution.
As soon as the plant is up and running, the use of prepackaged food is to be reduced by 80% with OUSD and replaced by freshly prepared, ethically sound food from the region.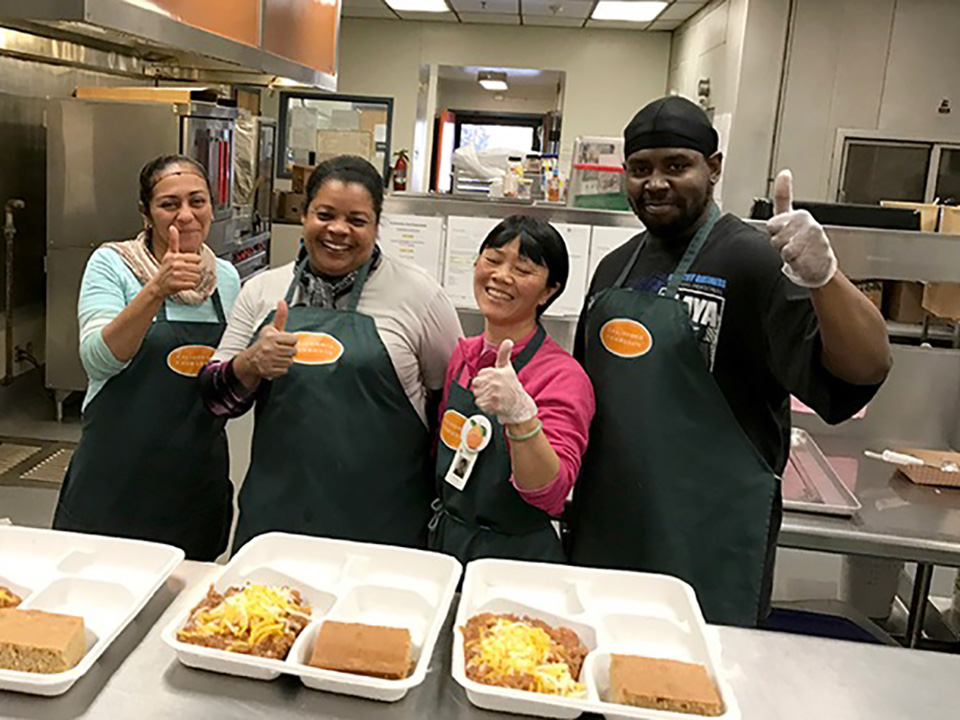 OUSD kitchen staff. | Photo: OUSD
In addition to a kitchen, storage and delivery area, the facility will house a garden and three classrooms, in which classes in nutrition, agriculture and culinary arts will be offered up to 8th grade.
For high school students, they offer courses to prepare students for college and the community, as well as vocational training in food-related areas for Oaklanders 18 and older. Readers can view plans for the website at OUSDthecenter.org.
A portion of the construction funds will come from $ 475 million OUSD received under Measure J Funding. This loan measure, approved in 2012, provided the money for general modernization of facilities. But with 86,000 to 12 schools and 32 district-authorized charter schools, $ 475 million is going fast, LeBarre said.
"Along with the work we do [on the central kitchen]We are upgrading facilities across the district, "she said. "Some of our schools don't even have kitchens."
"It's a long game," said Alexander, but she is optimistic that the success of the Good Food Purchasing Program at OUSD can serve as a model for other institutions in the East Bay.
"We want such programs to continue to expand to hospitals, government institutions in Alameda County, and even private businesses like hotels," said Alexander, "until sourcing ethically sourced food that treats food in a healthy way becomes a means . " Life."