Outdated Oakland Caribbean restaurant Miss Ollie's shuts down, and different restaurant closures
Here is a running list of businesses that have permanently closed since the Bay Area's shelter-in-place orders began on March 17.
Dec. 29
Chili Lemon Garlic, a Thai restaurant in SoMa, has closed. A takeout-heavy spot popular with office workers in the area, the restaurant offered homestyle Thai American classics like green curry, pad thai and chicken wings.
December 21 was the last day of service for Cookiebar Scoop Shop in Alameda. On Instagram, the ice cream shop posted a note alluding to a conflict with its landlord as the reason behind its sudden exit. The shop was known for its eclectic flavors, ranging from ice cream swirled with spicy Lao Gan Ma chili crisp and a surprisingly on-point Yakult variety, based on the Japanese probiotic drink. Cookiebar Creamery's Oakland outpost remains open.
Opened in 1920, the 15,000-square-foot Far East Cafe is an elder statesman among Chinatown's restaurants, and we'll be losing a substantial slice of history when it closes this week. Until the pandemic, massive banquet restaurants like Far East Cafe have been a staple of San Francisco's Chinese American community, hosting events like weddings, political fundraisers and Lunar New Year parties. In response to news of the impending closure, San Francisco Supervisors Aaron Peskin and Sandra Lee Fewer introduced a $1.9 million relief plan for Chinatown restaurants, hoping to prevent Far East Cafe's closure, among others.
Pedestrians walk past Lucky 13 in San Francisco. Ahead of its redevelopment into condominiums, the dive bar has closed.
Leah Millis / The Chronicle 2015
Castro/Duboce Triangle dive bar Lucky 13 closed this past Sunday, as reported by BrokeAssStuart. The 27-year-old bar's closure was inevitable in the face of its building's pending redevelopment into condominiums, though the most recent lockdown hastened its demise.
Dec. 1
Berkeleyside reports that, "due to the challenging business environment," Oakland gastropub Aisle 5 has closed. The craft beer bar and restaurant doubled as a live music venue and was a popular stop for Beer Week events.
Though 9-year-old French bistro Castagna in San Francisco's Marina District was reported to have been in the process of closing last year, owner Stéphane Meloni posted on social media app Nextdoor that the weekend of Dec. 5 would truly be the restaurant's last before closing for real.
Three-year-old Oakland cafe the Gastropig has closed, as reported by Berkeleyside. The popular neighborhood brunch spot was known for its creative, heart attack-inducing fare and industrial-chic ambiance.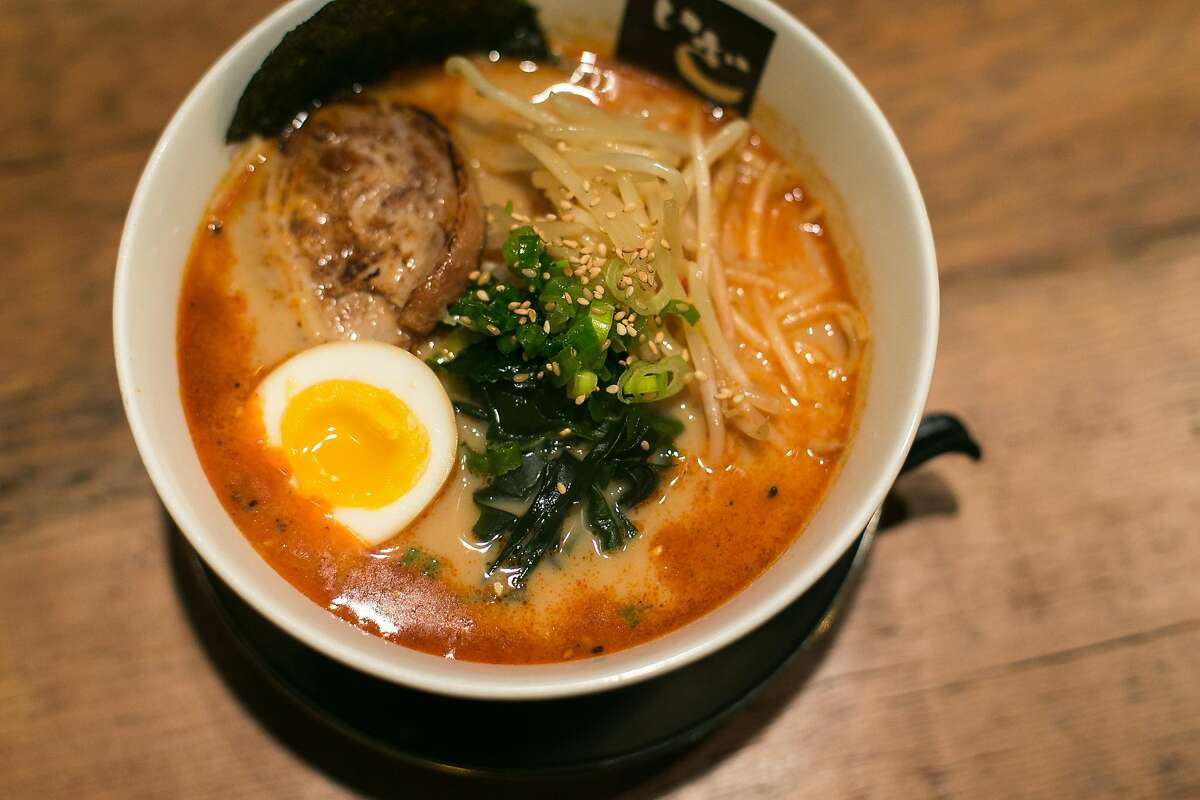 Iza Ramen's spicy ramen bowl. The ramen shop's SOMA location has closed permanently.
Jen Fedrizzi / Special to the Chronicle
Iza Ramen's SoMa location has closed, as reported to The Chronicle by a reader. It was opened in 2013 by chef Ritsu Tsuchida, first as a pop-up and then as a full-fledged restaurant, quickly becoming favored among Bay Area ramen connoisseurs. Its Lower Haight location remains open.
Formerly a popular study zone for university students, Berkeley's Sack's Coffee House has closed, as reported by SFGate and Berkeleyside.
Triple Voodoo Brewery, which had a taproom in the Dogpatch neighborhood, has closed, as reported by BrokeAssStuart. The brewery has ceased all operations due to a lack of revenue during the pandemic.
Nov. 24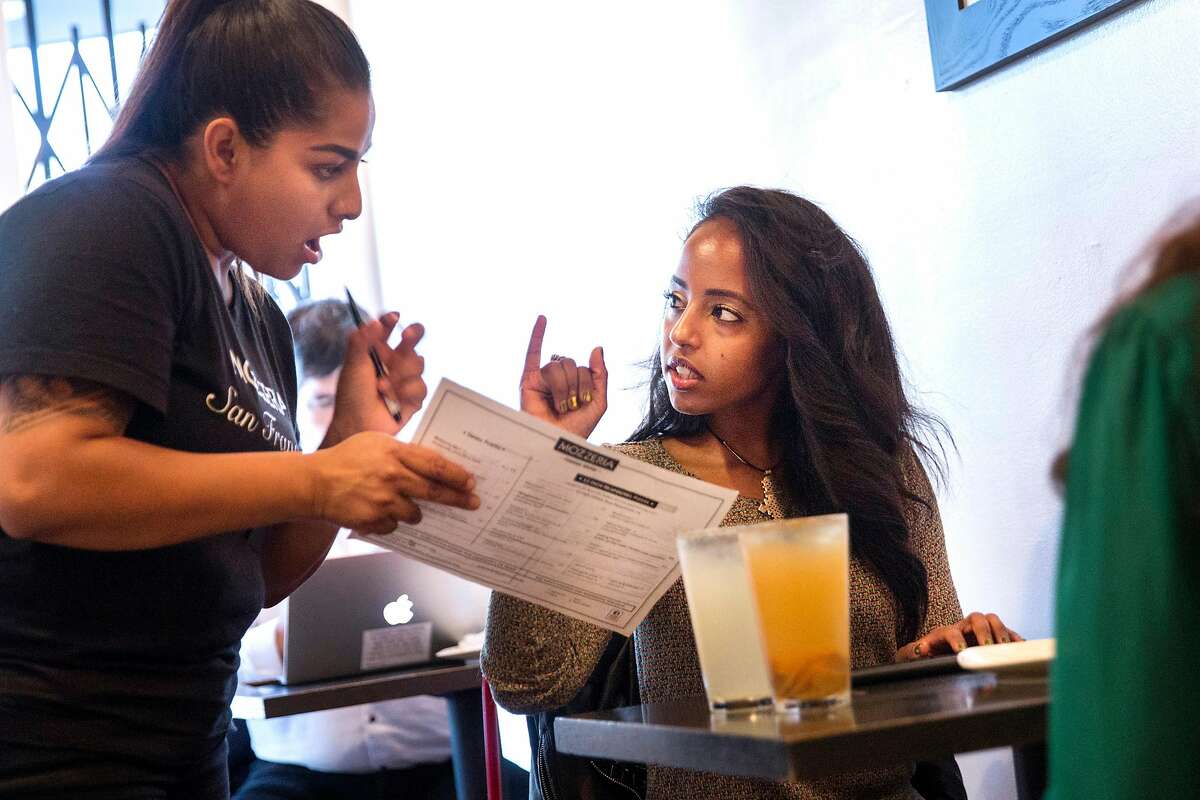 Mary Haile, middle, communicates with a waitress, Guadalupe Jacuindes, during a dinner at Mozzeria restaurant.
Jana Asenbrennerova / Special to The Chronicle 2019
Mozzeria, known as San Francisco's first and only Deaf-owned-and-operated restaurant, closed earlier this month, as first reported by KQED. With staff who were Deaf and versed in American Sign Language, the pizzeria was a hub for the city's Deaf community as well as an entry point into Deaf culture for hearing customers. The business' food truck will remain in operation, as will its new location in Washington, D.C.
In the Richmond District, Yiyi's Mandarin Kitchen has closed. Opened in 2019, it was a home for traditional, chile pepper-laced Sichuanese dishes, fried beef short ribs and meat skewers heavily perfumed with cumin.
Nov. 17
Miminashi, which brought izakaya-style cuisine to Napa, will be having its last dinner service on Nov. 23. On Instagram, owners Jessica and Curtis Di Fede wrote, "(A)s Winter and it's challenges arrive, PPP funds dry up, and the ability to financially stay afloat after so many months of struggle leaves us adrift, we see the writing on the wall."
On Nov. 28, Walnut Creek's Sabores Del Sur will close for good. Owned by Chilean immigrant Guisell Osorio, the cafe was a reliable place to find delicious South American dishes like handmade empanadas, Peruvian lomo saltado and Chilean-style blood sausage. In her Instagram announcement, Osorio mentioned that she will be moving the company's catering arm to a commercial kitchen and seeking a new location for the cafe.
Casual Vietnamese restaurant Tam Tam has closed, as reported by Elena Kadvany at Peninsula Foodist. The restaurant, by Tamarine owners Tanya Hartley and Tammy Huynh, opened in Palo Alto last year with a menu that spanned the regional cuisines of Vietnam. Hartley and Huynh told Kadvany that they hope to reopen the concept in the same area.
Nov. 10
North Berkeley's Tuscan trattoria, Corso, has closed after 12 years, as reported by Berkeleyside, which wrote that the restaurant actually went dark in June after takeout and delivery did not prove to be sustainable. In addition, sister restaurant Rivoli has been sold to its former general manager, Blake Peters, and will stay open. Owners Wendy Brucker and Roscoe Skipper told Berkeleyside that, while they're stepping away from restaurants, they're developing meal kits and catering during the new year.
Nov. 3
Just steps away from the Downtown Berkeley Station, Little Hunan was a reliable dinner spot for university students. The family-owned restaurant has closed after 34 years, as reported by Berkeleyside.
The perfect East Coast-style bacon, egg and cheese sandwich was the focal point at Oakland's Binney Park. But as the office breakfast crowd shrank, so did the demand of delicious breakfast sandwiches. As reported by Berkeleyside, the cafe has now closed.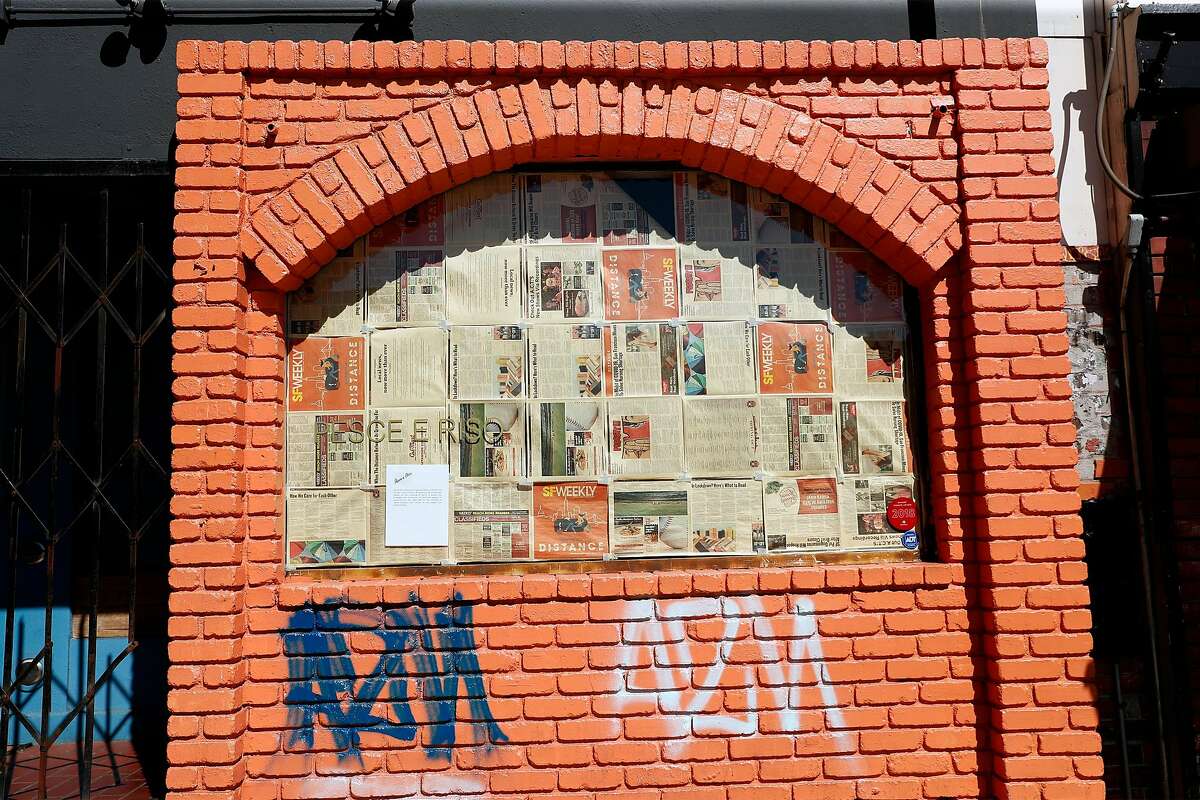 Pesce e Riso on Grant Avenue has closed.
Scott Strazzante / The Chronicle
Per an Instagram post by the restaurant, Pesce e Riso has closed. In the Italian enclave of North Beach, the restaurant stood apart with its incorporation of Japanese culinary influences. Here, one could sample tempura-style fritti misti and risotto with Japanese-style curry.
Rosa Mexicano, an upscale Mexican restaurant in the Financial District, has closed. The nationwide chain is known for its glamorous decor and tableside guacamole service; this San Francisco location, open since 2012, was very popular for company parties.
Oct. 27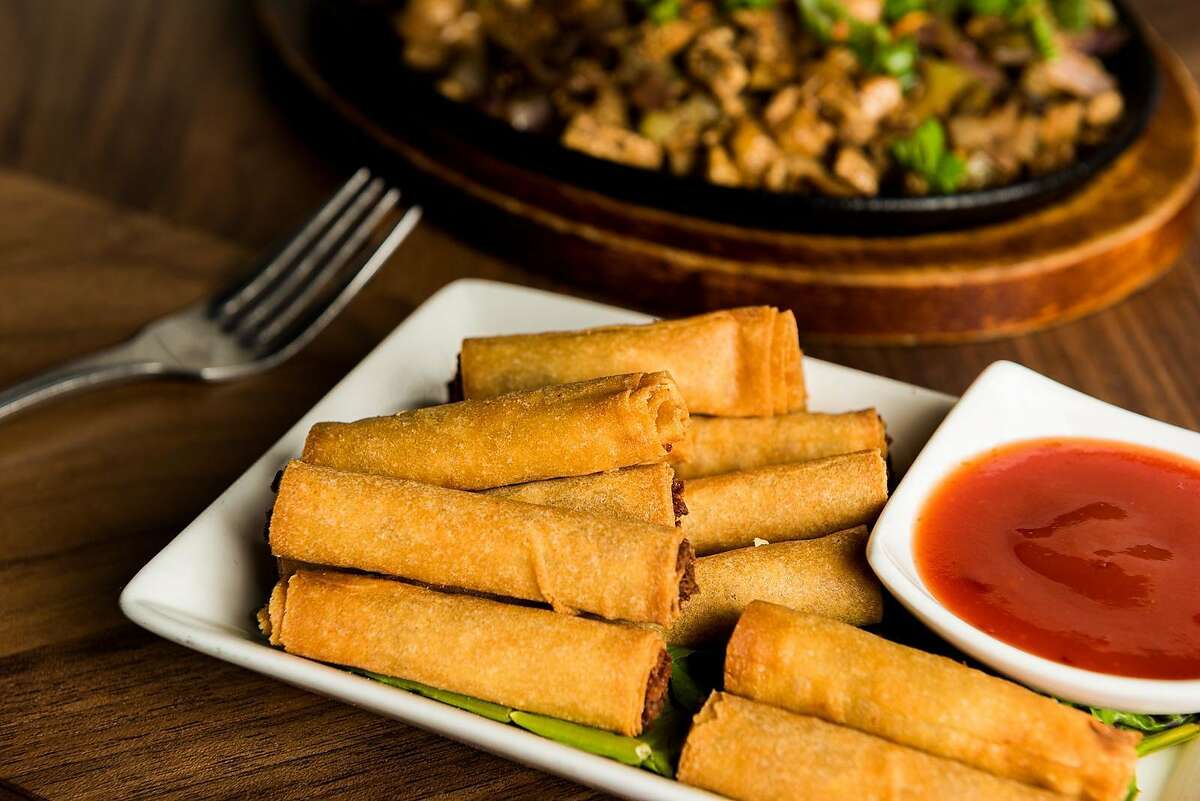 The vegan lumpia from Nick's, which has closed all three locations.
Albert Law
The three Nick's locations in the Bay Area (Nick's Kitchen, Nick's on Grand, Nick's on Mission) are now closed. They were owners Reina Montenegro and Kenny Annis' outlets for plant-based Filipino cuisine, where sisig was made with mushrooms and tofu and crisp lumpia were stuffed with shreds of mock pork. In place of the restaurants, Montenegro has opened an online delivery service, where she'll offer prepackaged "meats," care packages and prepared food.
Last week, Cockscomb chef/owner Chris Cosentino announced that he would be permanently closing his meat-centric San Francisco restaurant Cockscomb after six years. "I've been sitting here trying to say this over and over again eloquently but ultimately it just sucks. We are closing Cockscomb permanently," he said on Instagram.
After five years, Forest Hill hotpot specialist My Pot has closed. While unable to serve its bubbling broths for in-person dining, the restaurant had been offering hotpot sets for takeout during the pandemic. It was also known of its extremely spicy dishes, like its ghost pepper beef broth and wings so spicy you'd have to sign a waiver before ordering them.
As first reported by Palo Alto Online, Shalala Ramen is closing up shop after a decade in Mountain View. Owner Nobu Iwahashi told the publication that the restaurant's sales went down by 50% during the pandemic, an issue exacerbated by its relative lack of outdoor dining space. Iwahashi now has plans to open a pickup-only venture called Fugetsu in San Jose.
Flights on Castro Street, a Mountain View restaurant that served every dish in sets of three, has also closed, Palo Alto Online reports. The closure follows a settlement between owner Alex Hult and the restaurant's landlord over unpaid rent.
Oct. 20
Berkeley's Au Coquelet Cafe has closed, as reported by Berkeleyside. With its early morning and late night opening hours, the 46-year-old neighborhood cafe and restaurant was a popular meeting spot for community members of all ages.
Palio Cafe, a restaurant on UCSF's Parnassus campus, has closed permanently after 16 years. Owner Bettie Scodel attributed the closure to the pandemic, which resulted in fewer people coming to campus. Even after laying off staff, cutting opening hours and reducing menu options, the business remained untenable, Scodel said.
Oct. 13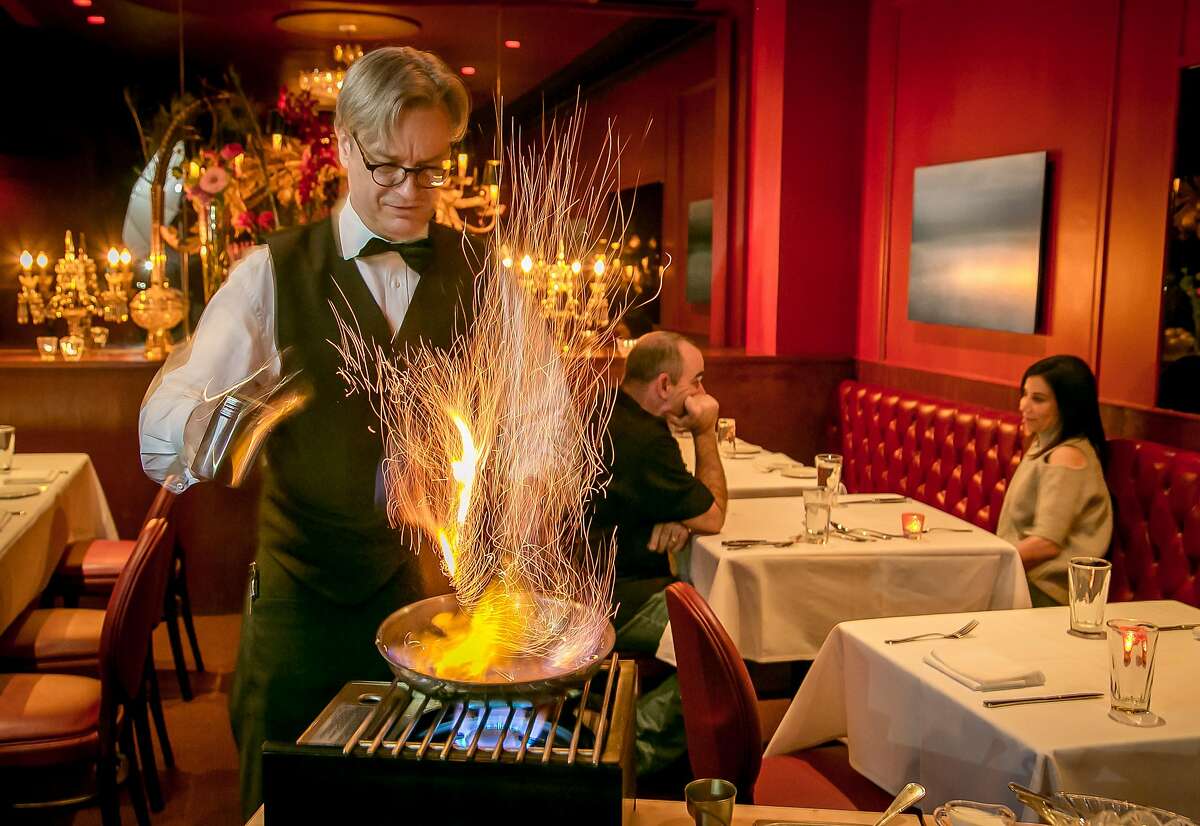 Server Robert Conso makes Bananas Foster at Alfred's Steakhouse, which has closed permanently just shy of its 100th anniversary.
John Storey / Special to the Chronicle 2016
San Francisco's oldest steakhouse, Alfred's Steakhouse, has permanently closed. For more than 90 years, the restaurant was an emblem of old-school culinary showmanship: orders of bananas foster were set aflame tableside and guys in suits sipped enormous martinis under crystal chandeliers. After a reformat, a fire and another reformat, the restaurant closed temporarily in 2019; but a real estate listing for the Merchant St. space confirms that the closing is now firm.
Located on the ground floor of the Pickwick Hotel, the casual Cafe Venue has closed, and its location is now up for lease. The restaurant was a favorite breakfast and lunch destination for office workers — particularly those of The Chronicle's newsroom. Two other branches of the restaurant remain open in downtown San Francisco.
Cinema-themed coffee shop Orson's Belly has closed, per a recent announcement on its official Facebook page. The popular Richmond District cafe and vermouth bar opened four years ago, quickly garnering neighborhood support for its silent film nights and literary events.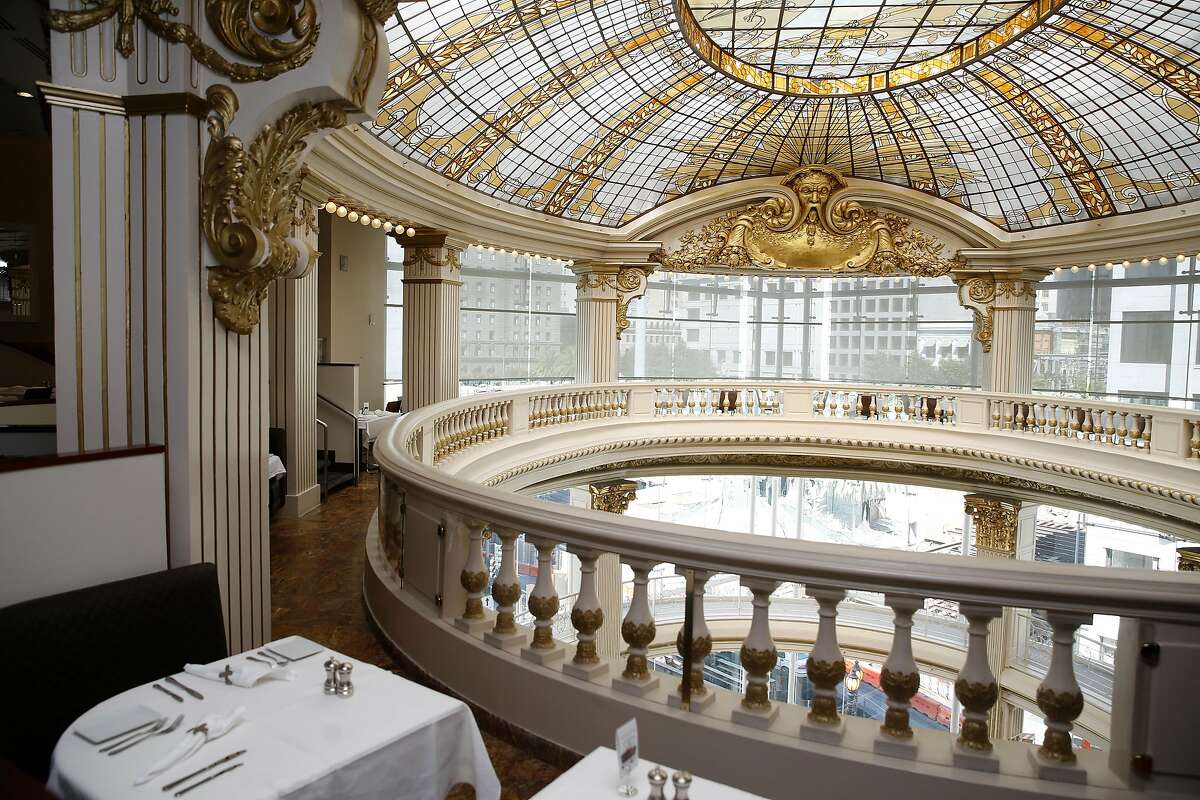 The Rotunda restaurant looking towards the City of Paris glass dome at Neiman Marcus. The restaurant closed after the retailer went bankrupt during the pandemic.
Liz Hafalia / The Chronicle 2015
Following Neiman Marcus' declaration of bankruptcy in May and the national retailer's subsequent restructuring, the Rotunda at Neiman Marcus has closed, as reported by Hoodline. The restaurant, located under a stained glass ceiling in the retailer's Union Square shopping center, was a favorite of tourists and those looking for an elegant lunch date.
As reported by KQED, popular music venue and bar Starline Social Club has closed, and its owners are currently seeking a buyer for the business and the building that houses it. Open since 2015, the club was a hotspot for Oakland's creative scene, hosting comedy shows, experimental music acts and rent parties for community members.
Oct. 6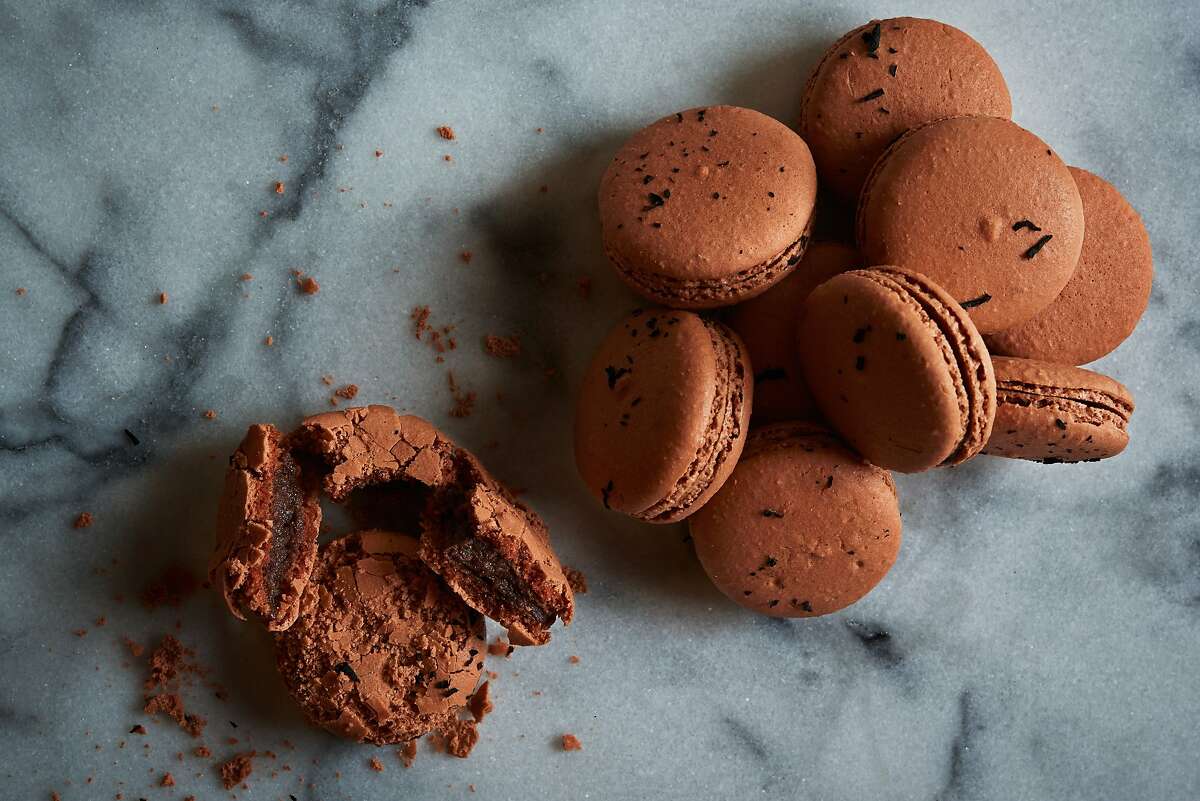 Chantal Guillon's Earl Grey macarons.
Jean Ho / Special to the Chronicle 2017
Macaron maker Chantal Guillon is closing her eponymous shops in Hayes Valley, SoMa and Palo Alto after 12 years in business. Their final day of service will be October 10, with macarons available for pickup until then.
After 85 years, Harrington's Bar & Grill in San Francisco's Financial District has closed. On the announcement on the bar's website, owner Michael Harrington wrote that, while the decision to close was difficult, reopening would be even more arduous. "To wait out this pandemic was financially unreasonable."
Siam Bay Authentic Thai Cuisine in Old Oakland has closed, as reported by Berkeleyside. The cozy restaurant, whose centerpiece was an elaborate facsimile of a traditional Thai roof, was a reliable standby for its all-you-can-eat buffet lunches.
Slicer, a New York-style pizzeria in Oakland's Piedmont neighborhood, has closed permanently, per a sign in its window. Open for seven years, the pizzeria was known for throwing seasonal, organic toppings like roasted cauliflower and kale onto its formidable slices.
Sept. 29
Cake Gallery in SoMa, a purveyor of many delicious yet often-tasteless pornographic cakes, has closed, as reported by Broke Ass Stuart. "Thank you for 38 years," a sign in the window says. While the bakery was notorious for its many cakes decorated with genitalia sculpted from frosting, it also specialized in airbrushed portrait cakes and 3-D cakes shaped like tacos, cameras and other inanimate objects.
Piedmont Sicilian restaurant Dopo's last day of service will be Oct. 3, per an announcement on the business' Instagram page. Since 2003, the restaurant was known for its daily tasting menus, handmade pasta and charred pizza pies. In the post, owners Kayta and Jon Smulewitz spoke to a sense of frustration: "The government has failed restaurants and small businesses; each one lost is a small ecosystem down, a network of people negatively impacted. Each one lost is heartbreaking and infuriating."
Meat-free sandwich shop Love 'N' Haight Deli's last day will be Oct. 1. Opened in 2000, the Lower Haight deli was known for its broad vegetarian options: smoked vegetarian duck, Boca burgers and hummus sandwiches were just a few of the offerings.
During the Glass Fire, which has since torn through more than 42,000 acres of land in Wine Country, many of the buildings of the Meadowood resort in Napa Valley were destroyed, including the acclaimed Restaurant at Meadowood. The Michelin-starred restaurant's last service was on Sept. 26; the owners have committed to rebuilding.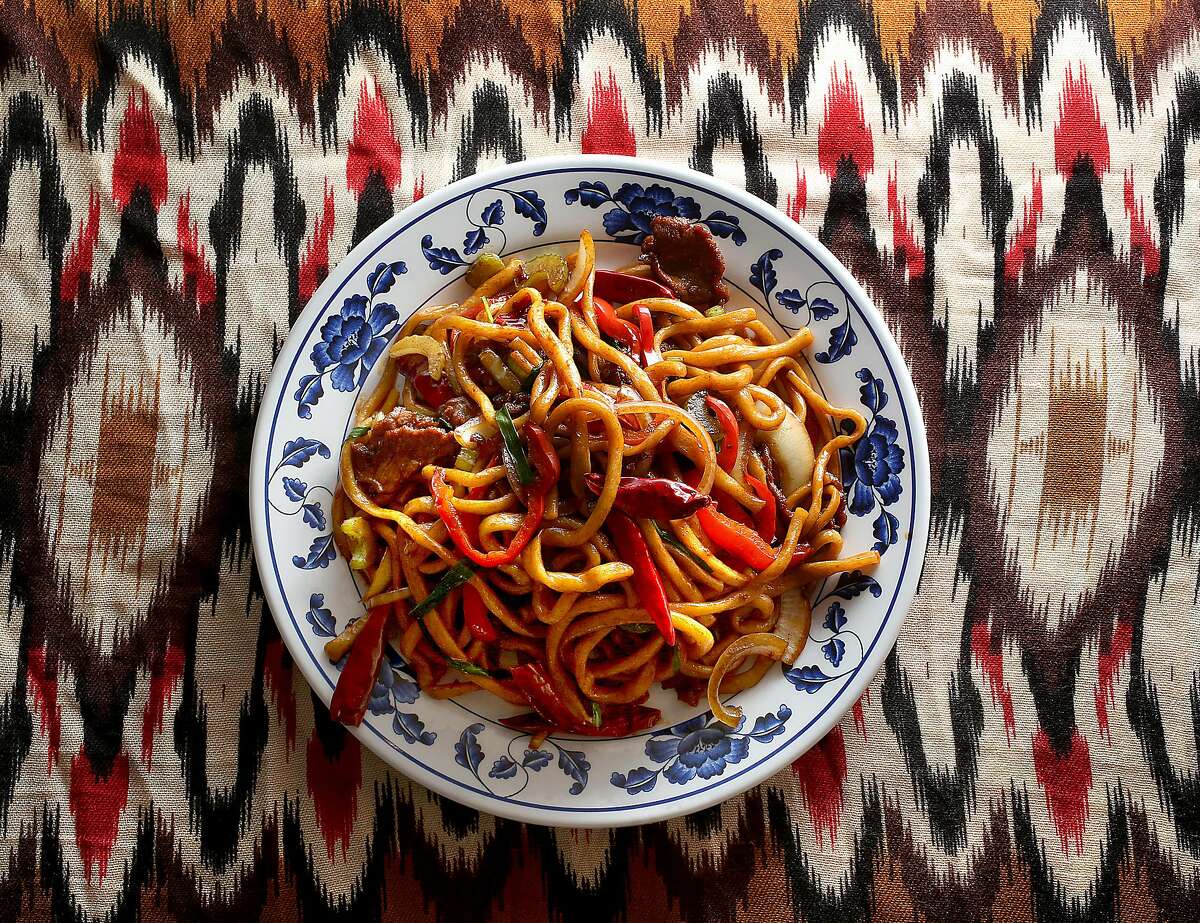 Stir fried noodles with vegetables & beef at Sama Uyghur, one of the only Uyghur (northwest Chinese and Muslim) restaurants in the Bay Area. It closed during the pandemic.
Liz Hafalia / The Chronicle 2017
One of the few Uyghur restaurants in the Bay Area, Sama Uyghur Cuisine, has closed. Opened in 2017 by veterans of Eden Silk Road, another Uyghur restaurant, the elaborately decorated Union City restaurant served Central Asian halal food, like whole lamb kebab marinated in warm spices and freshly baked flat breads.
Per an announcement on Instagram, Thai gelato shop Secret Scoop's last day will be Oct. 18. The Berkeley shop's gelatos were proudly Thai, with flavors like pungent durian, pandan and chocolate lemongrass. According to Berkeleyside, owner Funn Fisher, a Bangkok native, has sold the business to Ono Bakehouse, which will sell pastries and ice cream featuring Hawaiian flavors.
Sept. 22
In Jack London Square, 10-year-old craft beer taproom Beer Revolution has closed for good. The taproom had been closed throughout shelter-in-place. Its well-worn space, decorated with stickers and permanent marker signatures, was a favorite of craft beer fans throughout the East Bay.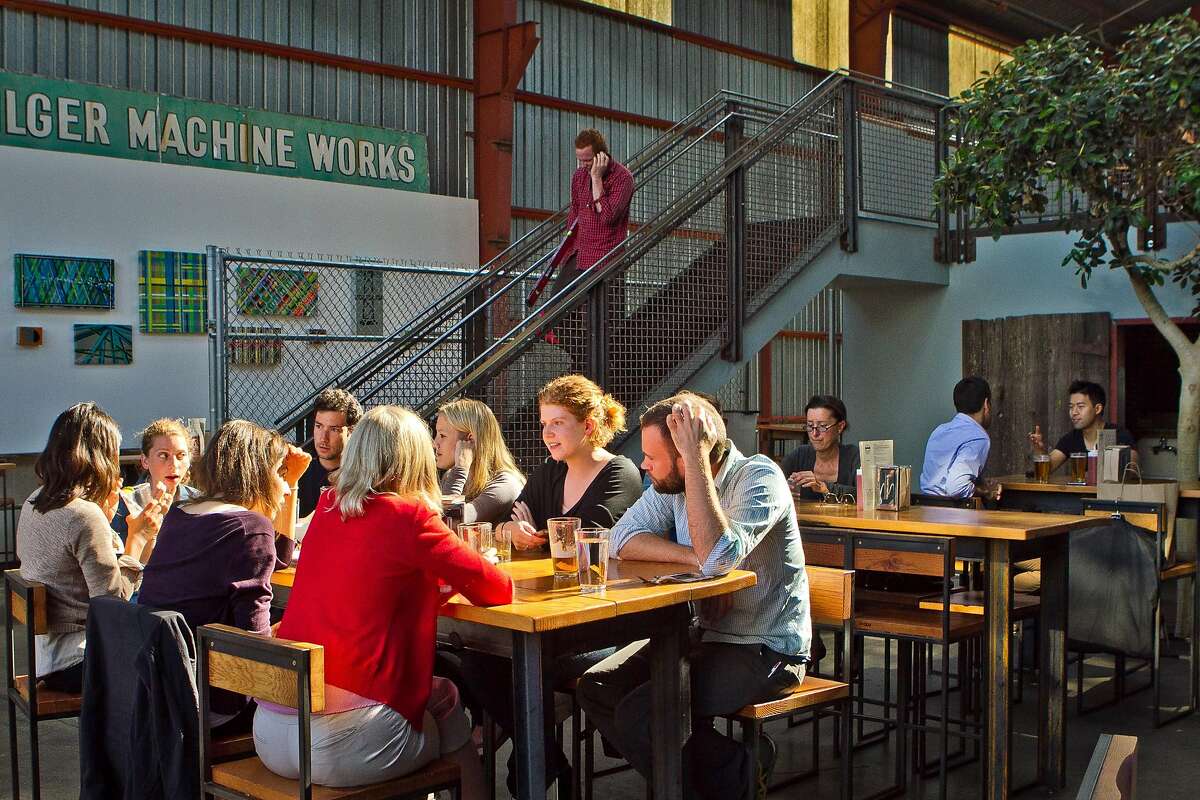 Happy hour at the Southern Pacific Brewing Company. The brewery closed during the pandemic.
John Storey / Special to the Chronicle 2012
Southern Pacific Brewing in San Francisco has closed, Eater SF reports. The brewery's 8,500-square-foot space, which served as a combination restaurant, bar and brewery, is now on sale. According to owner Chris Lawrence, the brewery's outdoor seating expansion in the summer, an attempt to recoup sales lost to the pandemic, was stymied by the heat wave and wildfire smoke.
Five-year-old Tenderloin restaurant Rusty's Southern has announced that its last day of service will be on September 25. Purveyors of porky Carolina-style barbecue, Rusty's was one of the few restaurants in the city that focused on Southern cuisine.
After five years in San Francisco's Parkside neighborhood, One Boiling Pot Mixian Noodles has closed. It was known for its Yunnanese "crossing the bridge noodles": fresh noodles in hot broth accompanied by toppings like quail eggs, shaved pork belly and enoki mushrooms.
Sept. 15
The Fillmore Street location of southern Indian restaurant Dosa has closed, leaving the restaurant's Oakland outpost as its only brick-and-mortar. The bulk of its operation will now be handled via its virtual kitchen in South San Francisco, which will offer takeout and delivery from hubs throughout the Bay Area.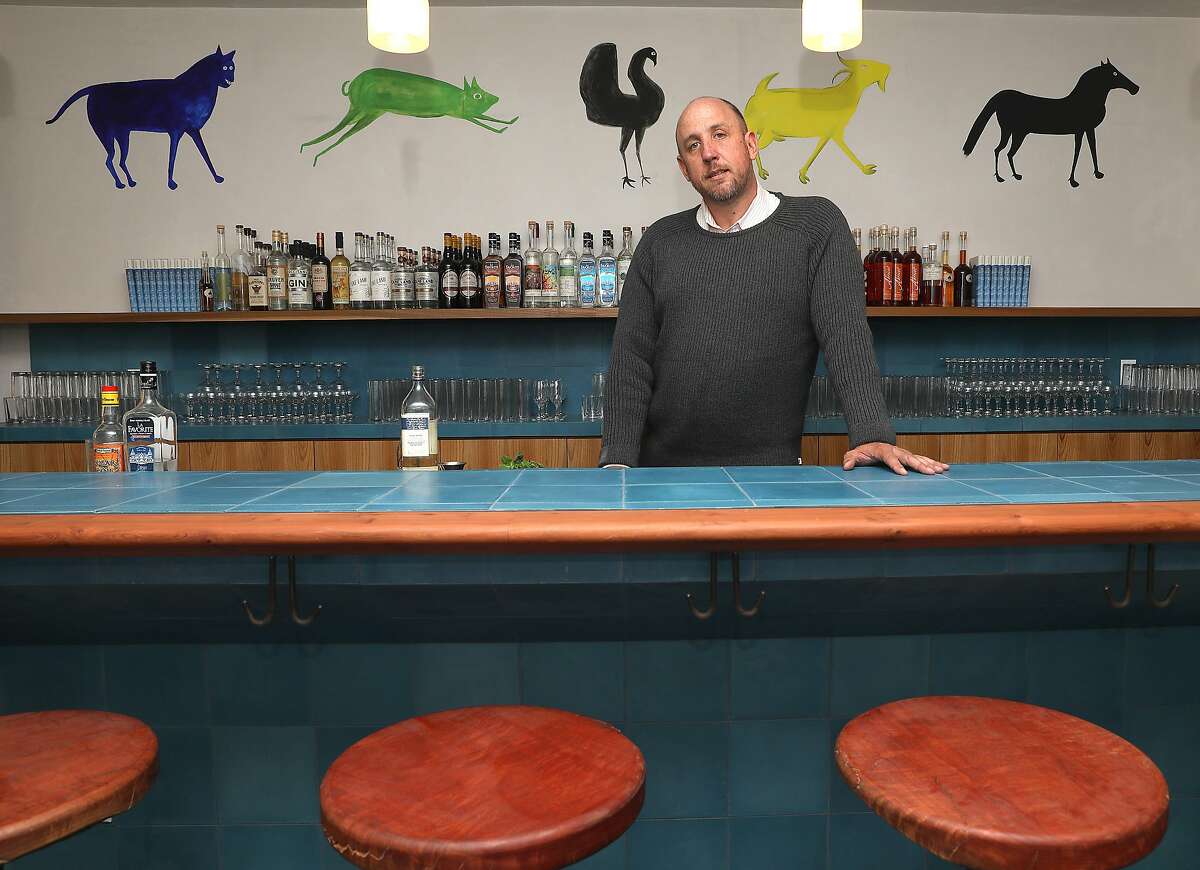 Bar owner Thad Vogler at Obispo, a rum bar in the Mission which closed during the pandemic.
Liz Hafalia / The Chronicle 2018
Thad Vogler, one of San Francisco's most prominent barkeepers, has permanently closed three of his four restaurants: Obispo, Trou Normand and Nommo. All three have been closed during shelter-in-place; now, Vogler's sole restaurant is Bar Agricole.
La Boulangerie, a San Francisco bakery chain, has closed two of its Bay Area locations, in Rockridge and on Sutter Street in San Francisco. In an interview with SFGate, co-owner Nicolas Bernardi said that the closures were due to the business being unable to cement reduced rent agreements with the landlords for those spaces.
Oakland's Tribune Tavern has closed due to a contentious split between owner Chris Pastena and the restaurant's landlord, Highbridge Equity, as reported by Berkeleyside. According to its reporting, while Pastena attributed the closure to the landlord declining his offer to pay a portion of back rent, the landlord claimed that offer was never made. The restaurant's last day was September 11.
Sept. 8
Beach Street Grill Organic Restaurant at Fisherman's Wharf, which had been closed through the duration of shelter-in-place, will not reopen. The restaurant's management announced the closure on its website, which has since been taken down. One of the few health food-focused restaurants in an area that catered to visitors, Beach Street Grill was a fixture of the area for 15 years.
Inner Sunset Thai restaurant Bussaba closed in late August after 10 years in business. In its announcement, the team stated that they would be pivoting to a new home-delivery food project. Plans are still in the works, but they hope that it will be a more viable way to meet the challenges of the pandemic.
Sept. 1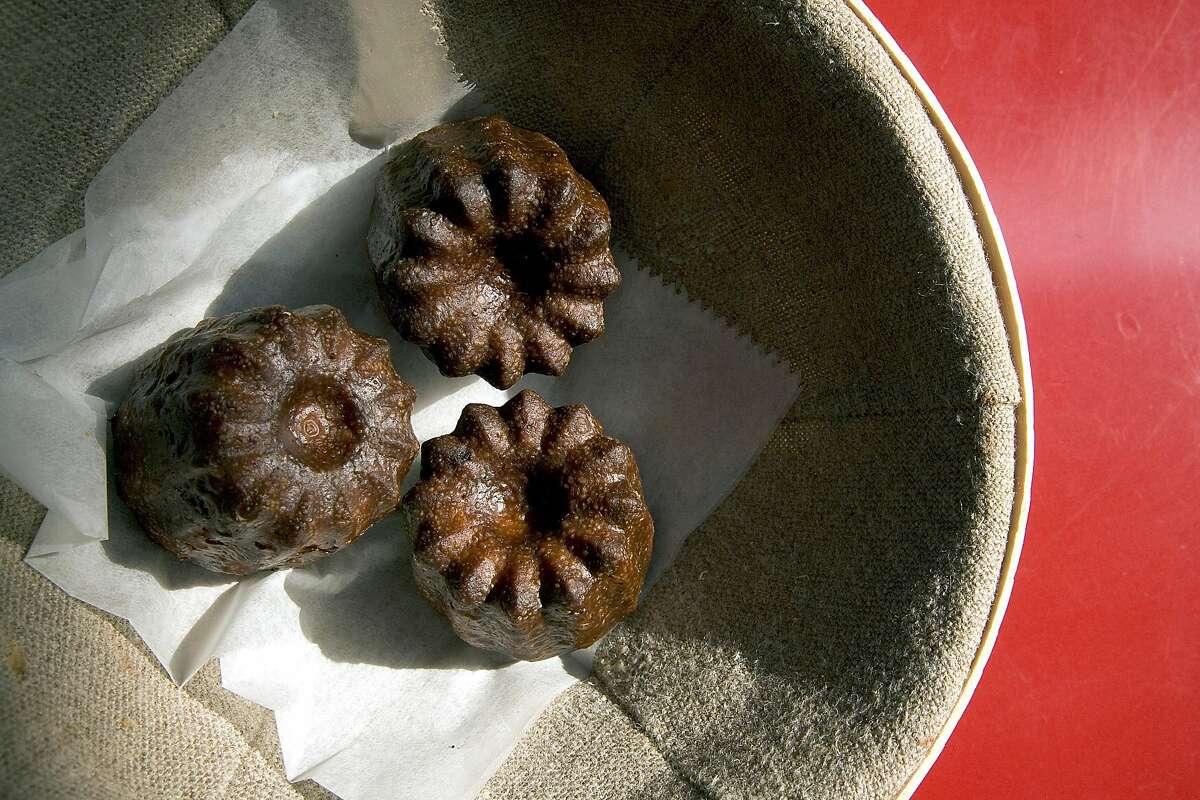 Caneles at Rigolo Cafe, which closed this year.
David Paul Morris / San Francisco Chronicle 2005
On August 29, 16-year-old Laurel Village cafe Rigolo Cafe served its last tartines. In an announcement on the restaurant's employee GoFundMe page, owner Douglas Mathieux wrote, "We did our best to stay open, and endured for 5½ months, but in the end, sales were just not high enough to justify staying open any longer." Sister restaurant Artesano will remain open.
Kinjo, Russian Hill's acclaimed sushi bar, has closed and transitioned into a second location of its Noe Valley sister restaurant, Saru Sushi Bar. Saru is more casual than Kinjo's kaiseki-inspired cuisine, with a broad range of maki rolls and a la carte nigiri on offer.
As reported by Eater SF and confirmed by restaurateur Mitchell Rosenthal, SoMa hotspot Salt House is closed for good. The restaurant opened in 2007 and shut its doors at the onset of the pandemic. That temporary closure became permanent as shelter-in-place continued.
Berkeley's Famous Bao, incidentally better known for its Shaanxi-style noodles than for its bao, has closed its two locations as reported by Berkeleyside. As UC Berkeley's student population, especially its international students, stayed home, the restaurants' fortunes dimmed significantly.
Aug. 25
E' Tutto Qua, one of former Chronicle restaurant critic Michael Bauer's favorite restaurants in North Beach, has closed, per an announcement on Facebook. The lively Roman-style eatery had occupied a prime location on Columbus Avenue for 13 years and epitomized the North Beach experience for many San Franciscans and visitors alike.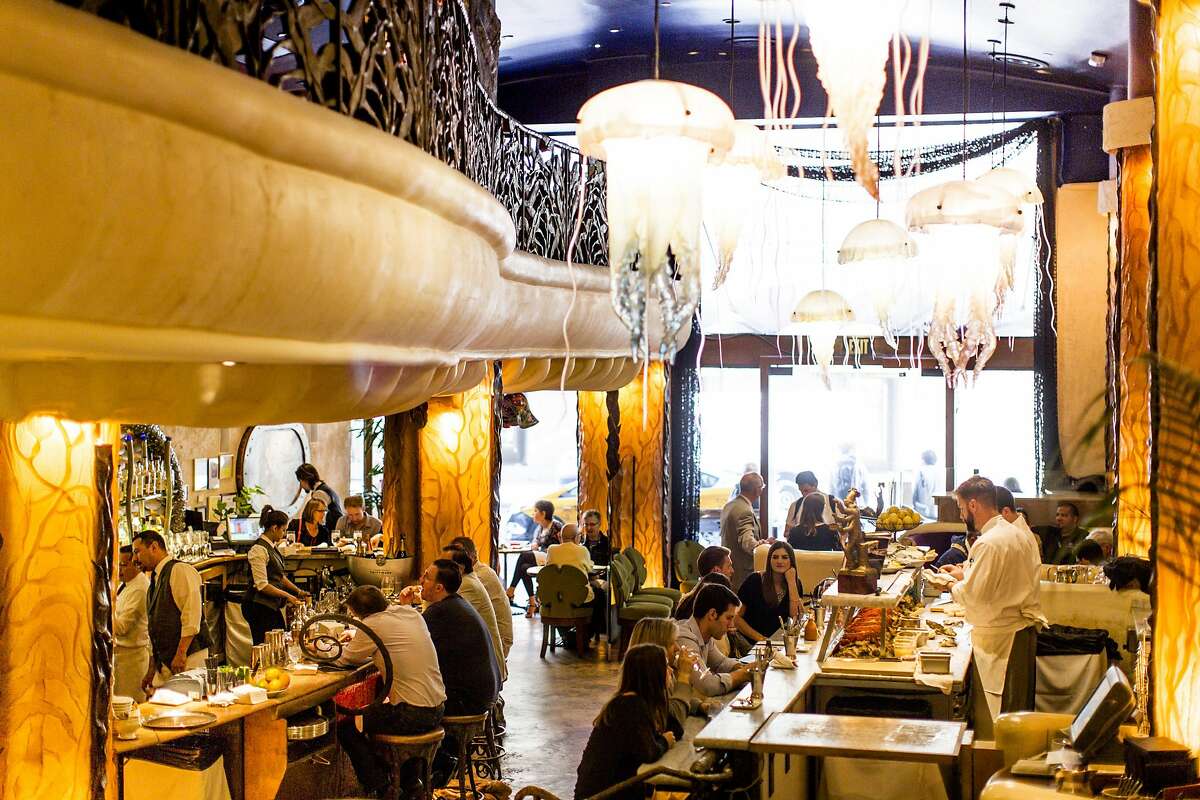 The Jellyfish Lounge at Farallon, a seafood restaurant in San Francisco that closed during the coronavirus pandemic.
Kirsten Ryczek
Dreamy seafood palace Farallon has closed after 23 years of entertaining happy hour crowds in its opulent dining room in Union Square. "It was just not going to make sense given all the ramifications of the pandemic for Farallon to try to reopen either as it was — as a fine-dining restaurant with a lot of seats — or to try to think about how to pivot the restaurant," said restaurant partner Pete Sittnick.
The Little Chihuahua's Valencia Street location closed for good on August 23. While a spokesperson for the Mexican restaurant says its other three locations have been thriving in recent months, the Valencia location was the sole exception.
In San Mateo and Mountain View, two locations of Paul Martin's American Grill will not be reopening, as reported by the East Bay Times. In a statement, the steakhouse chain stated, "This decision comes after painstaking discussions and deliberations due to the devastating effects of the pandemic and its impact on our local business and community."
On August 20, Potrero Hill Mediterranean restaurant Pera announced that it would be closing on Facebook. "We did our best to save Pera," the owners wrote, but their efforts couldn't combat the grievous financial impact of the pandemic. They plan to move their other restaurant, Papito, into Pera's location.
In an email sent to customers and friends, the owner of Pica Pica Maize Kitchen announced that the 14-year-old Venezuelan restaurant would be closing its doors for good on August 30. As reported by Hoodline, owner Adriana López Vermut did not exclude the possibility of a Pica Pica revival at some point down the line. The restaurant was one of the few places where one could get Venezuelan cuisine in San Francisco proper.
As reported by Sonoma Magazine, Tisza Bistro in Windsor closed on August 15 after a three-year run. "To say that things have been difficult over the last several months would be a severe understatement," wrote chef Krisztian Karkus in an email to patrons. The Eastern European restaurant is just one of many Sonoma County businesses struggling from the double disaster of wildfires and the pandemic.
Aug. 18
Ton Kiang, one of San Francisco's longest-running dim sum parlors and Hakka-style restaurants, announced it will close in the Richmond District after service on Aug. 30. Richard Wong, whose parents started the business in Chinatown in 1978, said he was ready for retirement and that the coronavirus sped up the process.
A SoMa cafe that entrenched itself as a popular hangout among San Francisco's tech industry elite, the Creamery, permanently closed due to the pandemic, as first reported by SFGate. It had been in the area for 12 years.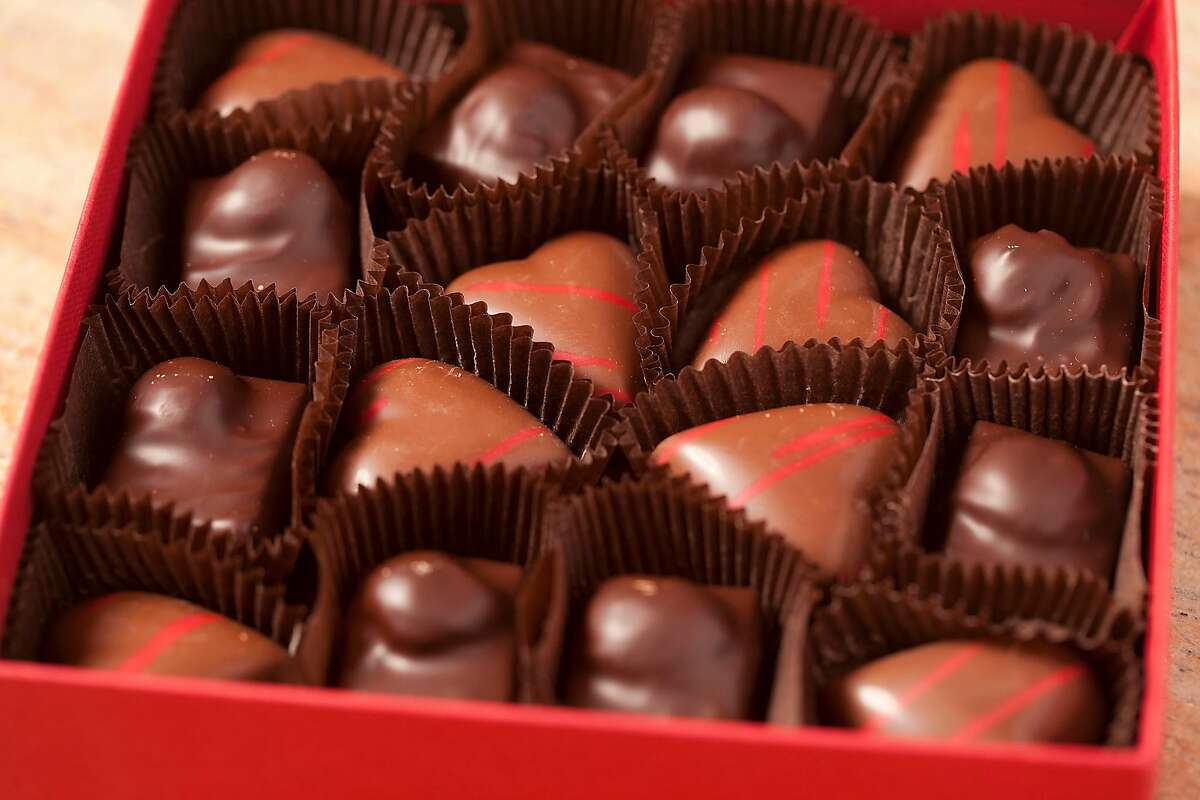 Chocolates by Recchuiti, which closed during the pandemic.
Stephen Lam / Special to the Chronicle 2012
Recchiuti Confections is closing its retail shop in San Francisco's Dogpatch neighborhood, according to reports in Hoodline. The home-grown high-end chocolate company will continue to do manufacturing nearby in the neighborhood and will focus its efforts on its shop in the Ferry Building.
Great Gold, an Italian-American restaurant that replaced Foxsister in San Francisco's Mission District a year ago, has closed as reported by Tablehopper. Founded by David Steele, who is also behind Flour + Water and other restaurants in the Ne Timeas restaurant group, it was known for homey dishes like chicken Parmesan and had tried selling meal kits during the pandemic.
Douglas, an upscale corner store and cafe in Noe Valley that had recently become a pickup site for restaurant meal delivery as well as a hub for groceries and wine, is closing at the end of the month according to Eater SF.
The Polk Street cocktail bar and restaurant House Rules closed for business on July 27, as first reported by Eater SF. The business was launched in 2015 by the team behind Eddie Rickenbacker's.
Another longtime restaurant that has served its last brunch is Seal Rock Restaurant, according to Eater SF, which reported that the owners decided to close after getting news of a large rent hike. Located at Lands End, the 46-year-old hotel diner was right near fellow breakfast stalwart Louis' Restaurant, which also closed last month.
Aug. 12
Downtown South San Francisco's Armstrong Brewing Co. has closed, as reported by the Daily Journal. Prior to the pandemic, the brewery's taproom was a thriving event space and watering hole for the neighborhood. That source of income was cut off by myriad requirements of San Mateo County's shelter-in-place order. "I don't think there is a small craft brewery in the Bay Area that is turning a profit," a brewery spokesman told the Daily Journal.
In Berkeley, Maison Bleue, a French crepe shop and bistro, has closed after three years in business, though the space isn't sitting empty. It has already transitioned into Mise En Place Kitchen, a cafe that promises to keep some of Maison Bleue's French items on its menu while introducing some novel Latin American and Californian influences.
After a pivot from restaurant to general store that seemed to keep San Francisco's Prairie thriving, chef/owner Anthony Strong told The Chronicle that the business would be permanently closing on Aug. 14. "The reality is we traded a tough-to-run, low-margin business model that we knew, for a tough-to-run, low-margin business model that was completely foreign to us," Strong said.
Aug. 4
Castro nightclub Badlands, one of the neighborhood's most popular video bars, has closed, as first reported by SFist. The gay bar originally announced on Facebook that it would not be reopening and that a different bar will take its place later this year.
Novato's East Coast-style restaurant Checker NY Deli served its last sandwiches on July 31, after a year in operation. Owner Lynn Moffett spoke to the difficulty in sustaining the operation for takeout and catering in a Facebook post about the closure: "(A)s the months have gone on and the pandemic continues to unfold, it is apparent that the restaurant industry will be changed for a very long time."
The SoMa location of Hinodeya, a ramen chain known for its light, seafood-flavored soups, has closed. Hinodeya's storefront at 303 Second St. opened in 2019, three years after its debut in San Francisco's Japantown. The Japanese chain has been around for 100 years.
Castro German cafe Mauerpark has announced that its last day would be Aug. 14, Hoodline reports. In an email to customers, owner Salome Buelow announced that she would be selling off decor and furniture from the cafe. In addition, she is hoping to obtain a cottage license so that she can continue to produce and sell German baked goods.
Due to a unsustainable drop in business during the pandemic, Mayfield Bakery & Cafe in Palo Alto has closed, Palo Alto Online reports. Bacchus Management Group opened the farm-to-table restaurant in the Town & Country Village shopping center in 2009. Despite receiving rent relief from the shopping center, the restaurant's financial situation remained untenable, according to a statement by owner Tim Stannard.
Dogpatch restaurant Serpentine has closed, Eater SF reports. Owner Tommy Halvorson told Eater that the restaurant was financially unsustainable even before the pandemic, with income from his corporate catering business carrying the restaurant's weight. Though a federal Paycheck Protection Program loan helped float the restaurant for a few months, the funds are running out, he said. Halvorson plans to revamp the space into something new, but he isn't sure what that will look like quite yet.
Carnival-inspired Straw, which gained notoriety for its towering donut burgers and lively brunch service, has closed. "Carnivals don't last forever," the Hayes Valley restaurant announced on Instagram. "That is what makes them so special. Straw will be back! We don't know what that will look like yet and we need some time to think about it."
On July 11, Vault 164, a 9-year-old restaurant inside of an old bank in downtown San Mateo, closed for good. "Since the start of the pandemic, I have seen this day coming," owner Brad Goldberg wrote on Facebook. "Fortunately for us, we were able to find a buyer that allowed us to leave on our terms."
July 29
Anchor & Hope, a seafood-focused restaurant by the owners of Town Hall and Salt House, has closed and its space is now up for lease. The real estate broker handling the location confirmed the closure and says that multiple parties are already interested—and it's "100% restaurants." However, restaurant owner Mitchell Rosenthal told Eater SF that their landlord is letting them stay on in the meantime, even though the business remains closed.
Yesterday, Spanish restaurant Barvale announced its closure on Instagram. The 2½-year-old NoPa restaurant will lend its space to a pop-up version of Italian sister restaurant Beretta in the Mission District. "While sad to see this chapter close, we are optimistic about our future here on Divisadero," the owner wrote.
In an email to customers, CatHead's BBQ announced that its last day would be Aug. 2. The restaurant had stayed open through the pandemic, offering takeout and delivery. "We have been trying to hang in there for the last few months in this difficult climate of uncertainty but we have to face the reality that we have to move on," the owners, Pamela Schafer and Richard Park, wrote.
Izakaya Roku, a Japanese pub in the Mission District, and JapaCurry, its curry-focused food truck, announced this week that their last day of service would be July 31. JapaCurry in particular was a favorite of office workers in downtown San Francisco.
Hoodline has reported that Mikaku, a neighborhood sushi bar in the Financial District attached to a hotel, has closed.
Osteria Stellina — an acclaimed California-Italian restaurant — is closing at the end of August after almost 12 years in Point Reyes Station because of the coronavirus, according to owner and chef Christian Caiazzo.
Peggy Sue's, a retro diner in San Jose, has closed after 20 years, as reported by the East Bay Times. The restaurant's 1950s memorabilia will be available for sale on its website soon.
Hoodline has reported that Sun Sing Pastry, a dim sum spot in Oakland's Chinatown, has closed due to its owner retiring. Its space is currently up for lease.
Belgian-inspired bakery Vive La Tarte has permanently closed its Ferry Building location. The kiosk was known for creating a viral sensation with its tacro, a flaky taco-croissant hybrid filled with meat and salsa.
July 20
Jeanne d'Arc, an old-school French restaurant that frequently topped the listings on TripAdvisor, has closed. Owners Micheline and Claude Lambert announced the closure on Bastille Day, a holiday that they would regularly commemorate at the 48-year-old restaurant. The restaurant, a fixture in the Francophone community here, was also known for its lavish Medieval-style murals and $58 prix fixe. In 2018, then-Chronicle writer Jonathan Kauffman wrote, "Jeanne d'Arc is one of the rare restaurants that makes a San Franciscan feel like he or she has left the 7×7 and, when it comes to the menu, the 21st century as well."
Inner Sunset classic diner Art's Cafe has turned its temporary pandemic closure into a permanent one as owners Sarah and Hae Ryong Youn have decided to retire. The closure was originally announced on Instagram by a friend of the owners. The Korean American diner was cherished by its regulars, and the formica countertop, which held countless postcards sent in by fans from around the world, was a testament to that fact.
July 14
Louis' Restaurant, located above the historic Sutro Baths at Point Lobos Avenue, is closing permanently after 83 years in business. "This decision was very difficult to make but with everything we have seen and heard regarding reopening for indoor dining we felt it was an unsafe environment for us and our employees," the restaurant said in a statement posted on Facebook. "To wait out this pandemic was financially unreasonable."
Combination wine bar-Indian street food restaurant Indian Paradox is closed for good, as first reported at Tablehopper. Owner Kavitha Raghavan had shut down the petite restaurant on March 15 ahead of San Francisco's shelter-in-place order and won't be opening its doors ever again.
July 9
Trailblazing Asian fusion restaurant the House has closed, per an announcement by its owners. Larry and Angela Tse, who opened the restaurant in 1994, announced the closure on the House's website and on Facebook Thursday afternoon. "After careful consideration, we have decided to close the House," the posts read. "A heartfelt thank you to our wonderful House community for your generous support throughout. It's been a truly incredible, unforgettable journey of 26 years with so many special memories and friendships along the way."
Nico, the Michelin-starred French restaurant in Jackson Square, will be closing as its team, owners Andrea and Nicolas Delaroque and collaborator Paul Einbund, revamp the concept. Because they don't see a place for fine dining in the near future, they hope to transition the space into a new takeout-oriented restaurant. At the end of 2019, Nico temporarily closed to make way for a yearlong pop-up, Gap Year at Nico, but the project shuttered in early July due to fluctuating demand for its takeout options.
On July 8, Velvet Cantina owner Matt Tognazzini announced on Facebook that the Mission District Mexican restaurant and bar would be closing after 14 years in business. "Given the health risks to both staff and customers and the financial uncertainty of running a restaurant in the age of coronavirus it doesn't make sense to continue operations," he wrote.
El Mesón de Violeta, Noodle Girl, Old Damascus Fare and A Girl Named Pinky, part of the collection of La Cocina businesses that populated the Martin Luther King Jr. building on the UC Berkeley campus, will not be coming back for the fall semester. According to a report by the Daily Californian, La Cocina's two-year contract with the student union ended on May 31, and the union is still developing a plan for their replacement. However, La Cocina business Pinky and Red's will continue its partnership with the campus and reopen.
July 7
A few weeks ago, Beachside Coffee Bar and Kitchen in the Outer Sunset quietly closed its doors for good. Hoodline broke the story after the cafe announced the closure on Instagram in early July. The announcement states that the pandemic was too difficult for the business. The laid-back cafe, opened in 2011 by Buffy and Patrick Maguire, was a favorite of the neighborhood's surfing community.
The Bay Area's only Lithuanian restaurant, Mama Papa Lithuania, will serve its last dumplings on July 31—but it's not closing because of the pandemic. Owner Vaidas Sukys is heading home to Lithuania to run for a seat on the Seimas: the country's parliament. "I was representing my small culture on the West Coast and now it's an opportunity to do bigger things," he told The Chronicle. "This patriotism is boiling inside of me to help this country, to go and do some changes and bring the knowledge I've gained through all of these years."
In North Beach, the eccentrically named Pasta Pop-Up, an Italian brick-and-mortar restaurant that has never been a pop-up, has closed. Opened in a corner space on Green Street by seasoned restaurateurs Francesco Covucci and Peter Fazio, the restaurant was praised by former Chronicle critic Michael Bauer when it opened in 2018. A seafood restaurant, California Fish Market Restaurant, has taken its place.
On July 4, the Independent Brewing Company announced its permanent closure on Facebook. The announcement came on the brewery's seventh anniversary. The brewery was the first business of its kind to be established at Oakland's Jack London Square, which has since seen the opening of several craft breweries. "The challenges of Covid-19 and an inability to find common ground on continuing our lease into the future have made it impractical to continue operations," the company stated in its announcement. "We are currently evaluating our future as a company, but want to wish Oakland and the Jack London Square area, our fellow brewers in the Jack London Brewing District, and all of our regulars and friends (who are now like family), a fond farewell."
June 25
After a long temporary closure, Nopalito on 9th Avenue will be closing permanently. Nopa's Mexican offshoot has been operating solely out of its Broderick Street location during the pandemic and will continue to do so. In the Instagram post that announced Nopalito's closure, the restaurant also broke the news of a new takeout window set to open by Dolores Park.
June 24
Ichi Sushi's temporary closure in March due to the coronavirus pandemic has become permanent. News of the Bernal Heights sushi bar's shut down was first reported by Tablehopper. Erin Archuleta, who co-owns the business with her husband, Tim, addressed the closure on Twitter.
June 22
Ma Sarap, a 4-year-old traditional Filipino food truck run by Phylisis Antonio and son Mark Antonio, has turned off its engine for good. According to an Instagram post penned by Mark, closing the business in response to the pandemic was the best move financially, mentally and physically. The truck was a frequent offering at food truck events in Antioch, Sacramento and other festivals around the Bay Area.
As first reported in Hoodline, Dobbs Ferry in Hayes Valley has closed after nine years of business and months of no revenue during shelter-in-place. Though the restaurant offered takeout for a short window of time in lieu of dine-in service, owners Lee Ann Frahm Izzo and Steve Izzo paused to "regroup" after two weeks; but they never managed to reopen.
June 17
Liba, an 11-year-old salad and falafel shop that grew out of an Oakland food truck, closed its doors permanently on June 10. On her Instagram announcement of the closure, founder Gail Lillian wrote that staying open would mean accruing thousands of dollars of debt. "I just paid off Liba's debt last year," she wrote; going through it all again wouldn't be worth it.
The San Rafael location of Yuzu Ramen, Yuzu Ramen & Taproom is now closed, per an announcement by the restaurant on Twitter that cited the loss of income from three months without dine-in services. Its Emeryville location will stay open, and the company will continue to deliver ramen through its own in-house channels.
Auf wiedersehen, Walzwerk. Open since 1999, the East German restaurant in the Mission has ended its two-decade run. "We are as sad as you are!" said a message owner Christiane Schmidt posted on the restaurant's website. "Our world has changed and we understand why. The only way to turn this sadness into new beginnings and new adventures is to adjust and move forward!"
June 11
Per a post on Facebook, a San Francisco resident spotted the owners of It's Tops Coffee Shop, an 85-year-old cafe, transporting the diner's neon signage in Potrero Hill early this morning. In the conversation that ensued, the co-owner, Bruce Chapman, who inherited the business along with his sister from their father, said that the restaurant would be closed for good. Hoodline originally reported the news that the sign was taken down.
It's Tops was one of the oldest businesses on Market Street, known for its retro, 1950s feel and all-day breakfast menu. The restaurant's phone line has been disconnected.
June 9
Cambodian restaurant Angkor Borei will close after more than 30 years in business in San Francisco's Bernal Heights neighborhood. Signs posted in its window by the owners indicated that the restaurant's last day will be June 15. In a 2008 review, Tara Duggan praised its fresh remodel and the warmth of its owners, couple Chin Han Yat and Tom Prabpan.
June 4
One of the only Nigerian restaurants in Oakland, Miliki, is permanently closed. Co-owner Ismael Okunade confirmed the closure with The Chronicle in an email. With its lively music events and home-style fare, Miliki was a center for the area's West African community, which had already fought to save the restaurant from an early demise in 2017.
Toy Boat Dessert Café, a fixture in San Francisco's Richmond district for 38 years, has been put on the market by its owners, Roberta and Jesse Fink. The cafe, which is filled with vintage toys, classic movie posters and Pez dispensers, has an aesthetic all its own that the owners hope its eventual buyer will preserve. In a recent Facebook post, Jesse wrote, "It is our hope that someone full of vigor and vim will take over Toy Boat and keep The Boat afloat for many years to come."
June 2
Wildfox, a 20-year-old American restaurant in Novato, announced on its website that it would not be reopening. David Keegan, the restaurant's manager, wrote, "(W)e remain grateful for our generations of loyal customers and amazing employees over the years. Unfortunately, we cannot proceed as we once were, nor can we continue to chase the new normal… or the next normal."
June 1
Per an announcement on its Instagram, Perch Coffeehouse in Oakland's Grand Lake neighborhood has closed. In its place will be MudLab, a zero waste cafe, grocery store and coworking space, opening immediately.
May 28
Hakkasan, the international restaurant chain that brought glitzy, modern Chinese cuisine to locations around the globe, is permanently closing its outpost in downtown San Francisco, which cost $7 million to build. "The impact of COVID-19 on our global operations has forced us to evaluate the viability of our venues and make a number of prudent yet difficult business decisions. To preserve the long-term stability of our business, we have permanently closed Hakkasan San Francisco," the company wrote in a statement.
May 26
Two dive bars in the Mission, Blind Cat and Thieves Tavern, both owned by Paul Bavaro, won't be reopening. According to a statement from Bavaro, both bars would host farewell parties on May 30. These were the last remaining outposts of Bavaro's four-bar collective, which included the late Whiskey Thieves and Dear Mom, both in San Francisco. The bars were a charming anachronism in a scene that worships cocktails and craft liquors, offering mostly beer and shots.
Another bar, the Stud, also closed its South of Market location permanently. The 54-year-old bar was a fixture of LGBT nightlife in San Francisco and operated as a cooperative for the past four years. There are plans to relocate; in the meantime, a drag funeral to commemorate the bar will take place on May 31.
May 20
The Lede, a restaurant opened in Oakland by longtime Chez Panisse chef Cal Peternell, announced via Instagram that its landlord terminated its lease: "Landlord canceled our lease. Thanks for all the support. Here's to better days." During shelter-in-place, the restaurant had been running a free meal program in partnership with nonprofits in the East Bay.
All 50 Specialty's Cafe & Bakery locations have closed. Spanning three states, the Pleasanton restaurant chain has fueled office workers here for 33 years. "Current market conditions attributed to COVID-19 and shelter-in-place policies have decimated company revenues," said the company statement in setting Tuesday, May 19, as the final day of operation. "We sincerely thank you for your business and support over the years."
The Stork Club, a century-old nightclub and bar in Oakland, announced on Facebook that it would not be able to reopen after shelter in place is lifted. The bar was a fixture of Oakland's live music scene.
May 14
The Garden Fresh company, which owns buffet chain restaurants Souplantation and Garden Fresh, announced that, due to new FDA regulations disallowing buffets and other self-serve formats, all of its 97 outlets will close permanently. This includes the Sweet Tomatoes restaurants in Mountain View, Pleasanton, Pleasant Hill and Sunnyvale.
May 11
Ten years after it opened on Valencia Street, the Crepe House's third location has closed for good. Owner Shar Haddadin told The Chronicle that, on top of the anticipated impact of upcoming construction on the street, the decimation of the restaurant's traffic due to COVID-19 was "the last nail in the coffin." The Crepe House's other location at 1755 Polk St. will remain open.
May 8
Ristorant Franchino, a 32-year-old homestyle Italian restaurant in North Beach, will not be reopening after shelter-in-place is lifted. Owner Maria Nozzolino told The Chronicle that the economic uncertainty brought on by potential limitations on service capacity, as well as difficulty negotiating a extension on the restaurant's lease, drove the decision.
May 4
After a period of uncertainty, the Grove, a casual American restaurant group with several outposts in San Francisco, announced that its Hayes Valley location will close for good. According to a letter sent by co-founder Kenneth Zankel to Eater SF, the closure is due to an alleged snafu the company experienced with getting its Paycheck Protection Program loan application filed by Bank of America, which therefore significantly delayed any possible aid via federal loans. So far, only the Hayes Valley location is confirmed as closing: The other locations in Yerba Buena and the Design district are set to re-open, though Zankel writes that the Fillmore district spot will need some substantial rejiggering to do so.
April 29
On Instagram, Pietisserie's founder, Jaynelle St. Jean, announced that the pie shop would be shuttering its Oakland storefront for good on April 30. However, she clarified that the 10-year-old company would continue to bake pies for delivery: "We are cranking out pies. Everybody who used to work at Pietisserie two months ago still works at Pietisserie."
April 24
After 35 years in business, Lalime's in Berkeley announced its closure via its Facebook page. Owners Cindy and Haig Krikorian thanked many of their regulars and colleagues by name and pointed to the economic impact of the novel coronavirus as the reason for closing. They first opened the restaurant on Solano Avenue in 1985 before moving it to its final Gilman Street location in Berkeley in 1988.
A sign in the window of Oakland's Momo & Curry indicates that the Nepalese-Indian restaurant has closed due to the financial difficulties of surviving the Bay Area's current shelter-in-place order.
April 22
La Guerrera's Kitchen has now closed its brick-and-mortar operation at the Aloha Club in Fruitvale. The owners, who are La Cocina graduates, who opened the location last May, will continue to serve tamales by the dozen for pickup at Ale Industries. The mother-daughter team are currently scouting a new permanent location elsewhere in Oakland.
April 20
After layoffs and a robbery, the 9-year-old Pause Wine Bar in Hayes Valley will not be reopening after its temporary closure during the shelter-in-place mandate. The owner, Chris Tavelli, and business partner Lindsay Sink have since started a wine delivery service called Quarantine Wine Club.
April 15
Dan Gordon's, a Palo Alto brewery restaurant, has closed. Owner Dan Gordon announced the closure at the April 13 Palo Alto City Council meeting, which was conducted remotely via Zoom, and cited the economic impact of the novel coronavirus as the cause. "If you want us to have open storefronts in the next nine months," he said, "you're really going to have to start being proactive and working on brainstorming what you can do for the business community locally to give them an incentive to want to reopen and hire people."
April 14
Benchmark Oakland, a Cal-Italian pizzeria in Old Oakland, has closed permanently. According to a statement on its website, the restaurant's pivot to takeout and delivery after the shelter-in-place order was not robust enough to sustain the business. "The end is nowhere is sight, and it is likely that our industry will be forever changed when this is over. We lack the capital to navigate that future." Benchmark's original location in Kensington will remain open.
April 9
Oakland cafe and art gallery Black Spring Coffee has announced its immediate closure in a Facebook post, attributing the decision to a conflict with its landlord. Its roastery will continue to sell coffee beans online.
Mestiza in South of Market, which closed temporarily in response to San Francisco's shelter-in-place order, is gone for good. Jay Foster, whose former partner, Deanna Sison, is the owner, confirmed the closure of the Filipino-Mexican restaurant. Mestiza made its debut on The Chronicle's Top 100 Restaurants list in 2019.
April 8
On April 7, the nearly 10-year-old Bica Coffeehouse, one of Oakland's earliest third wave coffee shops, announced its closure via its Instagram page.
Per a sign posted at the restaurant, Viognier Restaurant, which served Californian-French cuisine atop Draeger's Market in downtown San Mateo, is now permanently closed.
April 7
Over in the Marina District, Naked Fish, a 13-year-old sushi bar on a bustling stretch of Chestnut St., has also closed. While the restaurant's owners had originally planned to close out their lease on March 22, a sign posted on the restaurant's window states they closed even earlier to protect the health of their employees. All of the furniture has already been cleared out of the space and its phone line has been disconnected.
Bistro Aix, a French bistro in San Francisco's Marina District, appears to have closed after 24 years in business. The phone line has been disconnected, and its OpenTable page lists it as permanently closed.
April 6
After 75 years serving the Mountain View community, Clarke's Charcoal Burger's final day in business was March 31. On the restaurant's Facebook page, the owners wrote that, due to the coronavirus outbreak and shelter-in-place orders, it would be "impossible for us to continue on."
Cafe du Soleil's last day in business was March 31. The 15-year-old Lower Haight cafe was known for its old-school, French-inflected vibe and friendly service. Its storefront appears to be completely cleaned out, and the phone line is disconnected. The owners could not be reached at the time of publication.
In a Facebook post on April 5, Jonathan Sutton and Tony Ferrari, chef/owners of Hillside Supper Club in San Francisco's Bernal Heights, announced that the restaurant will not be reopening as originally planned after shelter in place.
March 27
San Leandro's Cleophus Quealy brewery will shut down completely at the end of April. The brewery has already shut down its tasting room to comply with health orders from California and Alameda County, though its final beers are available through online ordering.
Grocery Cafe, a Burmese restaurant in Oakland's Jack London Square, has gone dark, and the phone line has been disconnected. In a recent Yelp review, a diner writes that the owner, William Lue, could no longer afford the rent.
March 20
Mission District restaurant Locanda has closed; owners Anne and Craig Stoll cited the impossibility of continuing to pay rent, payroll and other costs without any new revenue as the reason behind their decision.
Have you heard of or seen any permanent restaurant closures in the Bay Area? Send tips to [email protected]
Soleil Ho is The San Francisco Chronicle's restaurant critic. Email: [email protected] Twitter: @hooleil