Here is the latest food news from Oakland. In this issue: Señor Sisig gets his first semi-permanent location in Oakland; a Rockridge coffee house changes hands; and a Mediterranean restaurant is renaming and moving its menu.
opening
Downtown
Señor Sisig Pop-up at Spice Monkey (1628 Webster St.)
Photo: Albertino M./Hoodline Tipline
Spice Monkey, the downtown Oakland location known for its live music and comedy shows, has been struggling since the pandemic began – especially as the lease has already had to be renewed. A post on his website states that he is still in negotiations with his landlord.
Meanwhile, help has arrived in the form of the popular Señor Sisig food truck, who posted a pop-up in Spice Monkey's parklet. While Señor Sisig has a stationary location in the mission, this is the first expansion into Oakland beyond its trucks.
The pop-up is supposed to stay open all summer and contain all typical Señor Sisig foods such as burritos, nachos, french fries and the "crunch-a-dilla". Spice Monkey also serves takeaway cocktails with the occasional live music shows in the parklet. Order online for collection or at the window – and be sure to bring your mask with you.
The opening times for the popup are Tuesdays, Thursdays, Fridays and Saturdays from 11 a.m. to 8.30 p.m. Monday from 11 a.m. to 4 p.m. Wednesday from 1:15 p.m. to 8:30 p.m. and on Sunday from 11 a.m. to 5 p.m.
As for Spice Monkey, they are currently running a GoFundMe campaign if you want to lend a hand.
Fusion Mediterranean (475 14th St.)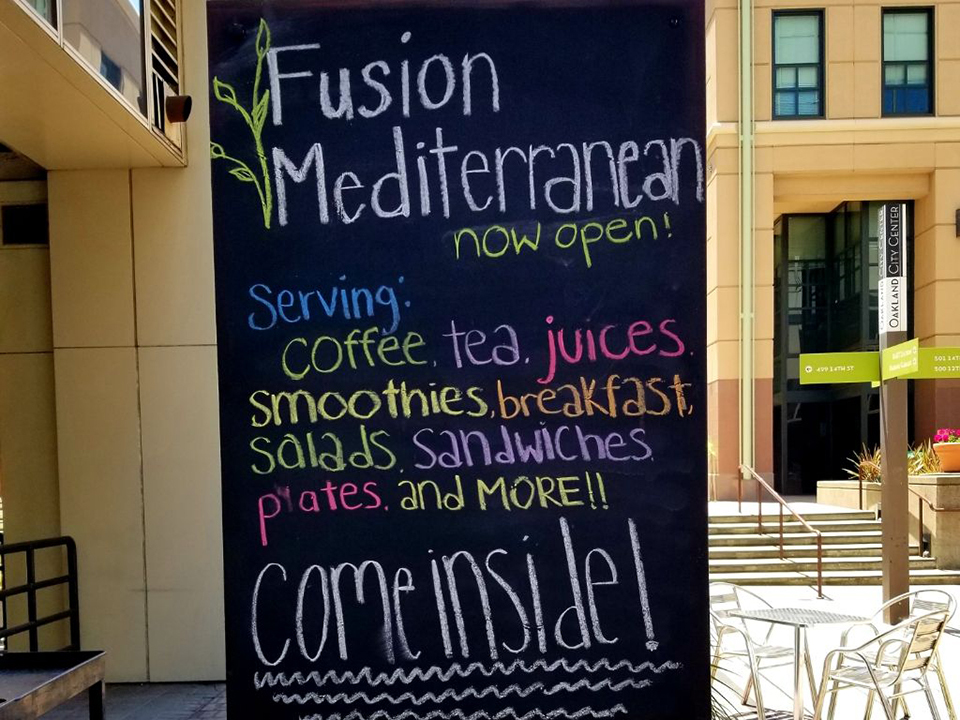 Photo: Albertino M./Hoodline Tipline
Also in the city center, the 9 to 5 Café 475 has reopened under the new name Fusion Mediterranean.
According to Berkeleyside, it debuted on June 9 for takeout, with offerings similar to its predecessor – salads, sandwiches, juices, and smoothies, many of which are vegetarian and / or halal.
While 475 had some Mediterranean options like hummus and falafel, Fusion has gone even further in that direction with dishes like dolmas, doner kebab, and roasted eggplant. There's a bit of Indian influence on the menu too – think Chicken Tikka Masala and Chana Masala.
Customers can order online for collection or receive delivery via DoorDash.
Rockridge
Ain't Normal (5701 College Ave.)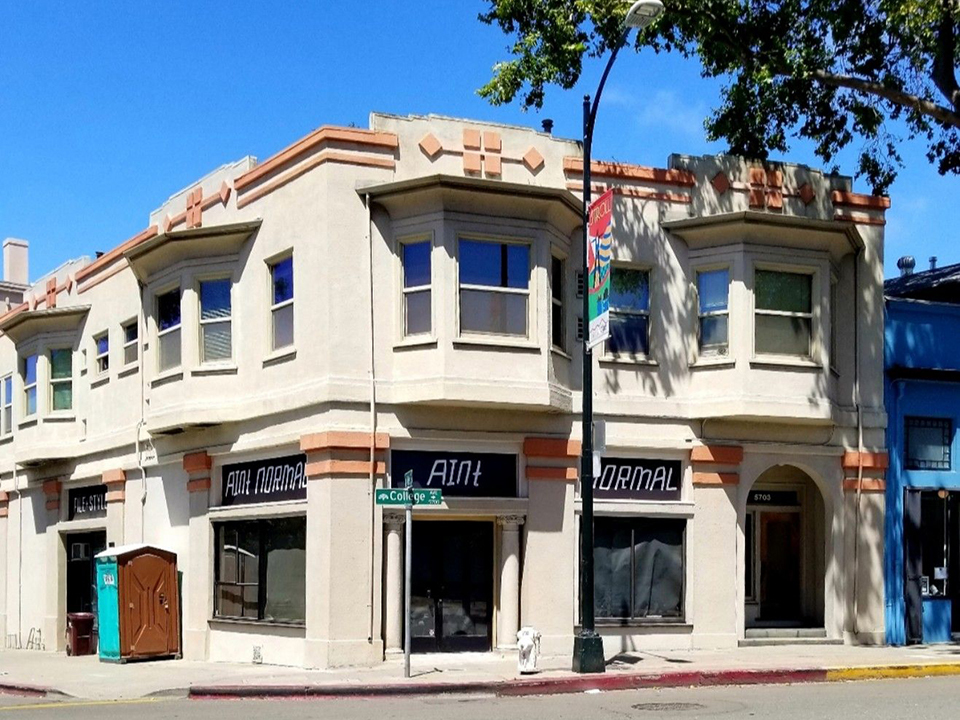 Photo: Albertino M./Hoodline Tipline
Over in Rockridge, our experienced tipster Al M. says that the former Bica Coffeehouse area has found a new buyer – Ain't Normal.
Ain't Normal was founded as a catering company and typically offers baristas on the go to serve espresso at business and private events. Customers range from Sephora to Salesforce to the Golden State Warriors. According to its website, this will be the first coffee shop open to the public.
Al says construction of the room hasn't started yet. There is no word about a possible opening date or what the café will offer beyond the coffee. A request for comment was not returned at the time of going to press.
Update 7/6: Faunus Luca, founder of Ain't Normal, reached out and said he hoped to "open as soon as possible". Luca said that with the café he "wants to deepen our connection to the community over delicious coffees, teas and simple food". He tells Hoodline that the dream of opening a permanent location came after several years of visiting cafes in college.
"But it probably wasn't locked in my heart until I got a job doing the dishes [Berkeley's] Bartavelle, "explained Luca, adding that he spent a lot of time there, both as a customer and as an employee," because he was excited about the community a café can make possible. "
Later, Luca said, he was able to organize a pop-up café with friends for art openings at San Francisco's artist residence, The Growlery. "It was great," he said. That was the start of a series of pop-ups in the Bay Area. At the same time he also began to deal with the coffee catering business. "While the catering was bothering me, I was always looking for ways to open a permanent location," he said.
Many thanks to our tipster Al M.! Did you notice a new addition (or subtraction from) to the Oakland nutritional landscape? Drop a tip and horizontal photo at (415) 200-3233 and we'll take care of it.